Huawei together with Browns Investments unveils Huawei's IdeaHub Smart Screen
The latest cutting-edge productivity tool IdeaHub Smart Screen is now available in Sri Lanka
World's leading ICT solutions provider Huawei and strategic investment vehicle of the Sri Lanka's Browns Group – Browns Investments PLC together in partnership recently unveiled the latest cutting-edge productivity tool IdeaHub Smart Screen to the Sri Lankan Market.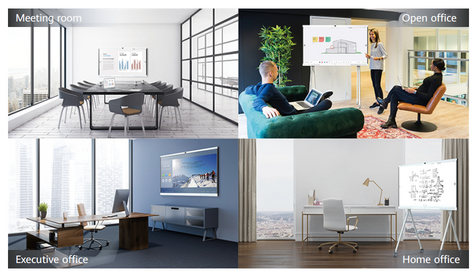 Huawei Ideahub Smart Screen is a product series that can create an all-scenario smart office for the cloud era, and boost production efficiency for enterprises. The launch of this new product to Sri Lanka was held with the participation of industry leaders from education, small & medium enterprises and Banking, Financial Services & Insurance (BFSI) sectors at Hilton Colombo.
"IdeaHub is the latest smart productivity tool for the modern workplace designed to enhance the way teams work together. Our product series includes the IdeaHub S and IdeaHub Pro. This intelligent office endpoint integrates various functions, including multi-screen collaboration between mobiles and PCs, interactive whiteboard, intelligent handwriting, remote collaboration, and video conferencing" Deputy CEO of Huawei Sri Lanka Ricardo Xiao said.
"This is a key component of our new smart office strategy, which will guide Huawei's innovation in the years to come as we seek to deliver superior products to our customers enabling them to take full advantage of our increasingly digital world" Ricardo said.
A product that brings up new creative solutions for various industries, Huawei Enterprise Smart Screen IdeaHub is a smart terminal that integrates smart writing, ultra-clear screen, video conferencing, and open office application market. It is a new terminal for enterprise team collaboration. It's also a new category, which can meet the smart office needs of enterprise conference rooms, manager rooms, open office areas, and other scenarios. IdeaHub is an innovative and a simple product series design unlike traditional complex hardware, with integrated Artificial Intelligence (AI) technology.
As an essential productive tool for modern day office environment, Huawei IdeaHub supports Huawei Cloud Meeting and third party mainstream cloud video conferencing services and platforms, which greatly simplifies the complex process of cloud video conferencing. It delivers better meeting experience with full 1080p HD-4K content sharing.
Furthermore, IdeaHub embodies simplicity in its physical design with its slender artistic stand and multiple cables' combination into one external power cable, preventing any cable deployment complexities.
Recently IdeaHub received the Red Dot Award 2020 due to its sleek, contemporary, user-centric design. It is designed to suit any environment, effortlessly turning meeting rooms, open office areas, executive rooms, and home offices into smart spaces. An all in one productivity tool can easily replace a whiteboard, projector, and professional video conferencing equipment. IdeaHub also comes with AI-features, such as virtual Acoustic Baffle, which blocks unnecessary noise. At the same time, Auto Frame automatically adjusts the camera angle based on the conference room and the number of participants. By using the 12 microphones' array and 4K camera, IdeaHub can automatically localize the spokesman voice in a radius of 8 meters. The wider frequency for transfers ensures crystal clear, Hi-Fi audio at every remote site.
The Huawei IdeaHub is available for demonstration in both Huawei and Browns Investments' offices in Sri Lanka and anyone interested in having this new smart tool can easily visit Huawei or Browns Investments offices upon making an appointment.
Photo Caption
IdeaHub Event 2021