British Council highlights role of education, culture, and creativity in addressing climate change at COP26
British Council's global Climate Connection programme has reached almost 200 million people online and directly engaged with over 2,000 creative innovators to tackle the climate crisis through arts and culture, education, and the English language.
British Council research of 8,000 young people globally highlights urgent need to include them in climate policy decision-making.
Other British Council initiatives include Creative Commissions exploring climate change through art, science and digital technology, a Green Careers Guide providing advice on education opportunities and routes into green jobs, and funding to protect global heritage from the risk of climate change.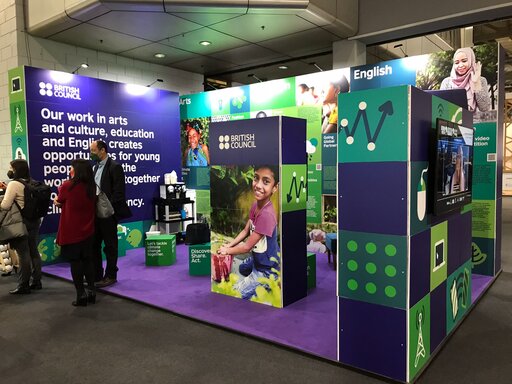 The British Council, the UK's international organisation for cultural relations and educational opportunities, is showcasing highlights from its global Climate Connection programme – which supports people around the world to find creative solutions to climate change – during the 26th United Nations Climate Change Conference (COP26) in Glasgow, Scotland from 1-12 November.
From the COP26 Blue Zone Pavilion, the British Council is engaging in discussions about the role of educational and cultural policy in tackling the climate emergency.
During COP26, the British Council is also supporting a number of partner-led events on site, while simultaneously engaging global audiences through a range of online offers – from an Massive Open Online Course (MOOC) for English teachers who want to integrate climate themes into their teaching, to a Live at COP26 MOOC run in partnership with the University of Edinburgh, to the launch of another edition of the Destination Zero climate innovation challenge competition.
Through the Climate Connection, the British Council has reached almost 200 million people online and directly engaged with over 2,000 young people face to face to date, including indigenous communities, artists, academics, scientists, and creative innovators, to find long-lasting, creative ways to tackle multiple issues relating to the climate crisis. The programme has connected with 700 partner organisations and connected with 178 countries.
Highlighting the British Council's role in addressing climate change, Scott McDonald, Chief Executive Officer of British Council, said: "Young people have a huge role to play in shaping future climate change policy and the British Council is committed to including their voices in the climate discussion at COP26 and beyond. Through initiatives such as our Climate Connection programme, we are building on UK expertise to support them to gain the skills, experience, and connections they need to make positive change at local, national, and international levels. Connecting and building trust between the UK and countries, communities, and generations – and empowering young people globally to make that happen – is at the heart of the British Council's approach."
Partnering with YOUNGO and the UN Climate Change Conference of Youth (COY), the British Council is supporting the Global Youth Letter on Climate Action, a call for action from young people directly addressing the leaders attending COP26, to highlight the urgent need to provide more opportunities to involve them in climate change policy.
The letter is a result of large-scale British Council research carried out this year, which surveyed the experiences and aspirations of 8000 young people across 23 countries. The report found that whilst young people are willing and keen to make meaningful contributions, many lack the opportunities to do so. Whilst 75 per cent of respondents reported having skills to deal with climate change in their communities, 69 per cent had never participated in climate action.
These findings have contributed towards COY16's Global Youth Statement, which will be formally presented to Minister Alok Sharma MP, COP26 President on 5 November as part of the Young and Future Generations Day at COP26.
The Global Youth Letter Report includes youth voices from Sri Lanka extracted from the youth perception research study that was conducted with over 1000 respondents providing a much needed platform to these unheard voices
British Council Sri Lanka planned an ambitious climate programme, aligned with the global campaign, to engage young people in discussions about climate change, leading to COP26 and after. The youth have been involved in various social action projects bringing citizens, organisations and networks together to improve wellbeing for the wider community and those most marginalised. We are continuing to actively engage with a wider audience through our offers in Arts and culture, English and education.
Highlighting key findings of the Global Youth Letter, Country Director of British Council Sri Lanka, Maarya Rehman said: "The climate emergency is the biggest crisis facing our planet and it's no surprise that an overwhelming 66% of participants agreed that climate change will be the biggest threat to Sri Lanka in the coming years. One of the main challenges as expressed by young people, is not having access to affordable capacity building resources. It was encouraging to hear that 70% of the youth interviewed believe they can play the role of an awareness agent on climate change. As world leaders gather in Scotland for COP26, we must ensure that voices of our youth in the climate change conversations is not overlooked and that they are included in climate policy decisions that will impact their futures."
For more details on the British Council's work in 2020-21, view our Review of the Year
Photo Caption
United Nations Climate Change Conference (COP26) in Glasgow, Scotland