Youthful realme smartphone completes maiden year in Sri Lanka with dazzling performance
realme, the fastest-growing smartphone brand in the world, celebrates its maiden year of operations in Sri Lanka with stunning success that is rarely seen with a new smartphone entrant. Within its first year of arrival, the tech-advanced but affordably-priced realme has earned the ranking as one of the top two smartphone brands in the island.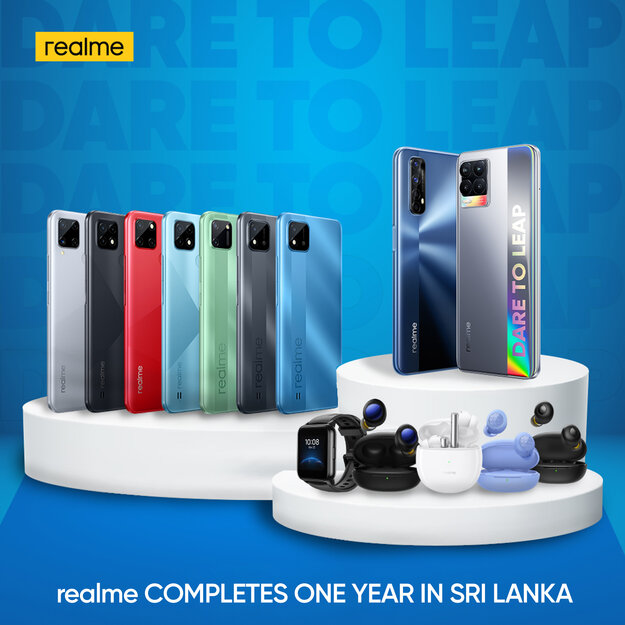 Shawn Yan, Head of Marketing – realme Sri Lanka said: "It is clear that the introduction of realme has had an explosive impact on the Sri Lankan youth. We have clearly seen a major demand spike for both smartphones and AIoT devices among them since realme's arrival. We thank realme fans for the trust and loyalty shown during this short period and in the coming years we are keenly looking forward to provide realme fans with smart solutions backed by the "Dare to Leap" spirit to meet their entertainment and digital needs at affordable prices. This achievement would not be possible without our partners, stakeholders and employees whose expertise in their specific areas have immensely assisted us to grow rapidly within just one year."
realme launched nine smartphone models in the Sri Lankan market along with six AIoT devices as well. realme hosted two live promotional events –one in May and subsequently another, in November. By November 2021 (the third quarter), realme succeeded in entering the top ranking of being one of the top two smartphone brands in the island.
The realme devices introduced the Sri Lankan market in its maiden year 2021 have been C11, C12, C15, C20, C11 – 2021, C21Y, C21Y (4GB + 64GB), realme 7 and realme 8, all of which matches the budget capacities of the youth. The realme smart AIoT devices launched in Sri Lanka during the same period were Buds Q, Buds Q2, Buds Air 2, Buds Air 2 Neo, Buds Wireless 2 Neo and realme Watch 2 –all of which are high tech gadgetry but offered at very affordable price points that tech geeks vie for. "We introduced eight smartphone models, all of which were well received. Realme C11 has been the top fan favorite with a high demand being seen all around the island for it. We also entered into a partnership with a leading online marketplace in Sri Lanka, Daraz, as a diamond partner for four promotional campaigns-Daraz turns 5, Daraz 11/11, Daraz Black Friday, and Daraz Grand Christmas Sale. During these campaigns also realme continued to rank within the 'top three brands sold' in the smartphone category" adds Head of Marketing Shawn Yan.
About realme:
realme is a global emerging consumer technology company disrupting the smartphone and AIoT market by making cutting-edge technologies more accessible. It provides a range of smartphones and lifestyle technology devices with premium specs, quality, and trend-setting designs to young consumers at affordable prices. Established by Sky Li in 2018 and driven by its "Dare to Leap" spirit, realme is the world's 7th largest smartphone company. As of Q2 2021, realme has entered 61 markets worldwide, including China, Southeast Asia, South Asia, Europe, Russia, Australia, the Middle East, Africa and Latin America, with a global user base of over 100 million. For 2021 second quarter realme has been placed among Top 6 in smartphone rankings by Counterpoint.
#ENDS#