Water-pumping solutions pioneer – AGROMAX partners with Abans to better serve consumer water requirements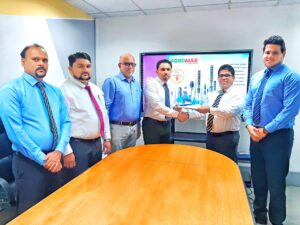 Agromax, a leading water-pumping solutions provider joined forces with Abans, a premier consumer durables retailer to fulfill the water requirements of every Sri Lankan providing excellent quality water pumps at affordable prices. The monumental partnership enables Agromax to leverage on the island wide Abans showroom network to distribute its range of global benchmark standard water pumps catering to all types of water needs of the nation.
Agromax is of the view that people from all walks of life should have access to clean, pure water and has already empowered thousands of Sri Lankans with its end-to-end water solutions ranging from domestic pumps, Agricultural pumps for farmer community and industrial pumps engineered to meet local consumer demands and to perform under challenging conditions and also powered with island wide distribution and after sales services.
Agromax has over 20 years of experience in water-pumping solutions and has a proven track record of engineering and re-engineering water pumps to perform under conditions such as power fluctuations, climate variations and soil structure, thereby providing highly customizable solutions to the doorsteps of every Sri Lankan. Agromax pumps are manufactured with low power intake and 100% copper stators to be energy efficient and stable performance. Agromax water pump portfolio includes pumps that cater to the needs of domestic, industrial and agricultural sectors. All Agromax products are manufactured with the latest technology and are proven to be highly durable. Further Agromax has recently introduced fully stainless-steel first-grade water pumps for drinking water, hospitals and food manufacturing industry usage.
Commenting on their efforts to provide clean water to every Sri Lankan, Chief Executive Officer of Agromax, Sadath Mohomed said: "Access to clean water is a global need and we as Sri Lankans also face the consequences of not having access to it, specially for people living outside of Colombo. We believe that these issues need to be addressed and we play our role in empowering each and every segment of the society providing access to clean water and on top of that sufficient water for agricultural farm lands in order to yield maximum harvest for farmers. Providing affordable water pumps has been our focus from the beginning and we also make sure that all our products are energy efficient, cost effective and user friendly."
Agromax water pump customers also benefit from its renowned, high quality after sales service. Its technical staff are located island wide and they answer to doorstep repair service calls, promptly relieving the water consumers from their water issues. The technical staff attend to the customers' requirements within just one phone call.
Agromax–Abans partnership is a highly fruitful venture since water consumers will now be able to obtain Agromax water pumps from island wide Abans showrooms backed by a trusted warranty.

Moreover, when they utilize Agromax, water customers can avail of Abans' easy payment schemes, credit/debit card payments and island wide delivery services.
A leader in water pumps manufacturing with 20 years of experience in water management and a proven track record of engineering and re-engineering water pumps based on climate variations and soil structure, Agromax is a brand that is committed to customer centricity. All Agromax products are manufactured according to the highest, globally benchmarked standards with a focus on environment protection, health and safety of customers.
Photo Caption
Jagath Marasinghe Manager-Operations at Agromax, Sameera Bandara Manager-Sales at Agromax, Rihimy Reyal Chairman of Agromax, Sadath Mohomed Chief Executive Officer of Agromax, Buddhika Dharmawardena Chief Marketing Officer at Abans, Angelo Fernando Brand Manager at Abans while sharing the MOU.