Swadeshi Khomba Baby Hoda Purudu celebrates World Children's Day with "Hoda Purudu " educational campaign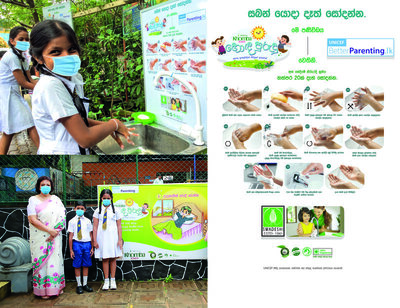 The Swadeshi Industrial Works PLC launched a novel hygiene awareness campaign for Sri Lanka's primary school children to coincide with the World Children's Day celebrations.
Titled "Swadeshi Khomba Baby Hoda Purudu" the event saw grade 3 school children at Sapugaskanda Sobhitha Vidyalaya (Primary) taking part in awareness-led activities inculcating "Hoda Purudu " (Good habits) among them.
The Swadeshi Industrial Works PLC, spokesperson commencing the event explained 12 "Hoda Purudu" (12 good habits) an informative session which was followed by a speech on 12 steps of hand washing, delivered by Miss. Nilusha Patabendi,Water, Sanitation and Hygiene Specialist, UNICEF Sri Lanka. A hand-washing jingle was introduced to the school with a staged drama on the importance of Hoda Purudu- another fun and excitement filled session enjoyed by the children. The event was rounded off with the Hoda Purudu Line art drawing competition that featured 50 students showcasing their artistic talents.
Commenting on the Hoda Purudu Awareness campaign, The Swadeshi Industrial Works PLC spokesperson said: "We identified that Hoda Purudu should not be limited to a particular day and that they should always be nurtured among children. So we were instrumental in fixing Hoda Purudu awareness billboards inside the school which will remind students to adhere to good habits every time they see them. We are delighted to participate in this awareness campaign, which included UNICEF's hand-washing guidance, and we look forward to conducting community empowerment projects of this caliber."
As part of the Hoda Purudu awareness campaign, Swadeshi Khomba Baby team fixed 12 boards in the school highlighting the 12 steps of Hoda Purudu which includes the correct steps of hand washing based on UNICEF guidelines. The team donated Hand Washing sinks that displayed the 12 steps of hand washing.
In 2019, Swadeshi entered a ground breaking relationship with UNICEF's Better Parenting.LK, that saw the company support the online platform that offers expert information on childcare, development, food and nutrition to Sri Lanka's parents. Both Swadeshi and UNICEF's BetterParenting.LK have a shared vision of empowering a generation of young people to reach their full potential, by ensuring that parents and caregivers are able to give children the best start in life. The Swadeshi Industrial Works PLC has continuously been empowering local communities. Among such initiatives as supporting annual Aloka Pooj as in temples around the country, Khomba tree planting initiatives, donating water tanks for people in dry zone, educational material for school children and hand-washing sinks for schools, temples and railways, stand out.
Trusted by Sri Lankans for 80 years, Swadeshi Khomba Baby is Sri Lanka's No. 01 herbal baby care brand with a product range of Khomba Baby Soap (Herbal, Floral, Venivel& Avocado), Cream, Cologne, Oil, Shampoo and Gift pack. All Khomba Baby soaps have the miracle herbal ingredient of Kohomba (Neem/Margosa) that protects baby's skin naturally from germs and irritations with its mild and gentle cleansing power. Khomba Baby Soap is the only baby soap in the local market manufactured with the best mix of herbs which provides essential nourishment to the baby's skin with soothing fragrances.
The pioneer and market leader in the herbal personal care category in Sri Lanka, The Swadeshi Industrial Works PLC, an ISO 9001:2015 certified company was incorporated in 1941. All products manufactured by Swadeshi are 100% free of animal compounds and vegetarian, and proven to be healthy.
Photo Caption:
1. The Chairperson of The Swadeshi Industrial Works PLC., Ms. Amari Wijewardene with school children during World Children's Day Khomba Baby "Hoda Purudu " educational campaign.