Singer rolls out biggest offers this festive season topped with massive discounts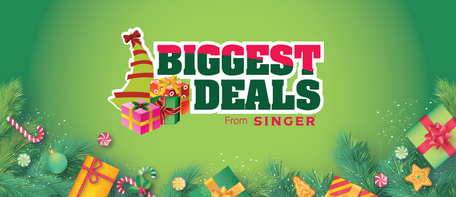 Singer Sri Lanka PLC, the country's number one consumer durables retailer has unveiled an incredible range of tantalizing seasonal treats to its customers during this festive season. Walk-in customers to Singer's island-wide showroom network and customers who choose to buy products via www.singer.lk website can now avail discounts up to 25% plus exclusive warranties up to three years on selected products.
Through its island-wide showroom network, Singer is also offering unmatched gift vouchers to customers to gift their loved ones an endless array of products. These gift vouchers are in different denominations to choose from and are ideal for gift givers who prefer their gift receivers to choose their own presents.
During this festive season, customers can avail trade in discounts up to Rs. 30,000 on TVs and up to Rs. 26,000 on washing machines plus interest free payment schemes. In addition, Singer offers whooping discounts up to Rs. 15,000 on Air Conditioners plus interest free payment schemes, discounts up to 10% on hot water showers and discounts up to 25% on prestige cookware including free giveaways. For selected furniture, discounts up to 20%, up to 60 months installment plans for credit cards and easy payment schemes up to 18 months are on offer. For refrigerators, customers receive both trade in discounts and interest free payment plans. Singer is also showering discounts on digital products such as for selected Samsung mobiles- discounts up to Rs. 50,000 and for Dell i3 laptops- free three year exclusive warranty and many more offers.
Singer is home to products from a range of top of the line brands including Sony, Samsung, Panasonic, Kenwood, Huawei, Dell, Beko, Sisil and Asus. The unmissable high quality of numerous brands under Singer network enables customers to seamlessly choose items backed by trusted warranties.
Commenting on Singer seasonal offers that are already underway, Shanil Perera, Marketing Director at Singer Sri Lanka PLC said: "Singer's annual end-of-year festive season has been renowned for the biggest Christmas and new year deal offers in Sri Lanka. Singer not only focuses on providing best value for money deals during this season, but also gives the highest product quality ensuring customers' peace of mind. This year, our new look www.singer.lk website is ready to facilitate e-commerce buyers and we are prepared for a big spike in online orders in comparison to previous years. It is that special time of the year when we spread the goodwill of the season to our customers and we invite everyone to check out the biggest seasonal deals from Singer at our island-wide showrooms and through www.singer.lk website, the online shopping destination."
The www.singer.lk website is a one stop e-commerce destination providing customers the comfort of buying products from home and getting them delivered to their doorsteps. Singer facilitates the customers with payment options that include credit/debit cards and most importantly, interest free payment schemes.
Singer Sri Lanka PLC is the leader in Sri Lanka's consumer durables market and is renowned for offering a wide range of top-quality local and international brands to its growing number of consumers across the country. With over 430 retail outlets, a strong dealer network and E-commerce platform (www.singer.lk), Singer owns a portfolio of over 600 electronic items, 1200 home appliances and boasts more than 50 internationally renowned brands.