Hemas Consumer Wins big at SLIM DIGIS 2.0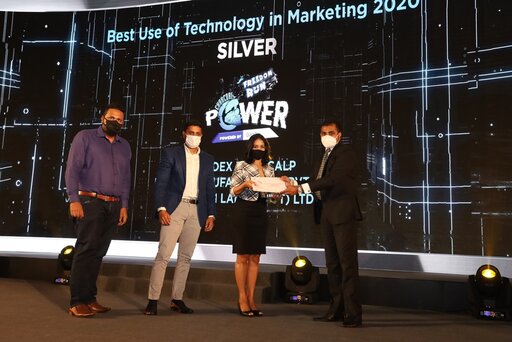 Hemas Consumer, a leading manufacturer in Sri Lanka's Home and Personal Care sector sealed prominent awards at the recently concluded SLIM DIGIS 2.0. One of its highly successful campaigns, Freedom Run 2.0 organized for Dandex Pro Scalp clinched three awards including Silver award for Best Use of Technology in Marketing 2020, Bronze award in the category of Beauty/personal care/OTC and became finalist in the category of Best Digital Marketing Innovation 2020. Its Clogard Fresh Blast Gel Toothpaste – Cinnamon and Propolis variant launch won Silver award for Best Use of Branded Content 2020.
Winning three awards on the trot, Freedom Run 2.0 campaign topped off a memorable night for Hemas Consumer. Freedom Run is an online game organized for Dandex Pro Scalp Shampoo focused on engaging the digital natives with fun and interaction, while educating the benefits of the brand's product variants. The campaign was rolled out covering more than 40 locations and reached out to over a million people via online platforms.
Commenting on the awards received, Director of Marketing at Hemas Consumer, Fiona Juriansz Munasinghe said, "These awards speak volumes for the commitment and dedication shown by our team and the agencies which partnered with us to roll out highly successful campaigns. I would like to congratulate everyone for their enormous support in taking Hemas Consumer Brands to new heights, and these are major milestones in our journey towards outstanding success.  These awards are a result of a collaborative effort and it has ensured that Hemas Consumer brands continue to be embraced by a wider audience."
SLIM DIGIS 2.0 hosted by the Sri Lanka Institute of Management (SLIM), the national body in marketing in Sri Lanka is a highly acclaimed awards event among the marketing fraternity of Sri Lanka. SLIM DIGIS was first introduced in 2018 as a means to celebrate ingenuity and innovation in the field of digital marketing, identify talent and to recognize the region's growing influence on the global digital industry.
Hemas Consumer, a leading manufacturer in Sri Lanka's Home and Personal Care sector is a subsidiary of Hemas Holdings PLC. Established in 1948, Hemas started with a simple intent: to help families live healthfully. This core belief has informed our growth for over 72 years. Today, as a leading public quoted company with over 4,500 employees, we bring healthful living to life through a portfolio of world-class products and services in the Consumer, Healthcare and Mobility sectors. Woven into the socioeconomic fabric of Sri Lanka, Hemas has also expanded regionally with operations in Bangladesh, West Bengal and Myanmar. In our onward journey, we will continue to invest in diverse and passionate teams, create meaningful offerings, cultivate trusted partnerships, and champion a more inclusive world, so that we continue to create positive impact for all our stakeholders.