Singer wins Gold at SLIM Restart Resilience Awards 2020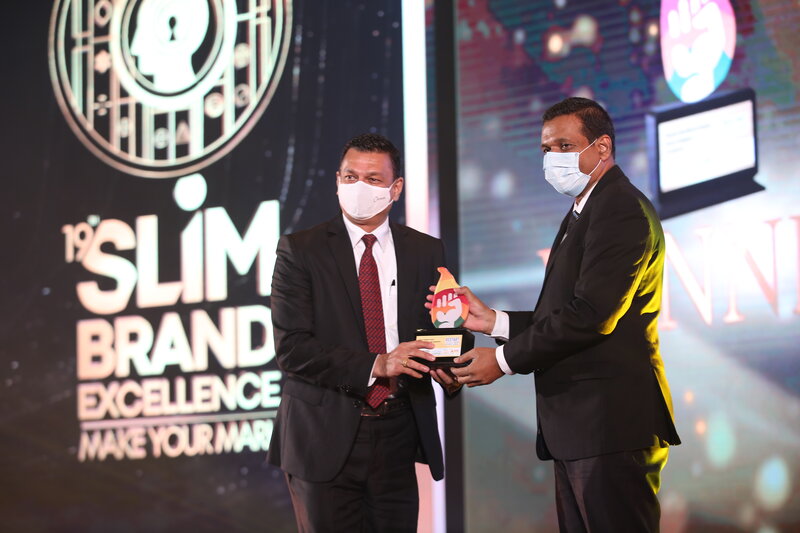 Singer, the country's premier consumer durables retailer continuing its winning streak has clinched honors at the SLIM Restart Resilience Awards 2020 held recently.
Singer sealed the Gold award under the Restart Resilience Large Organization category reinforcing its prowess as Sri Lanka's number one consumer durables provider. This award is a testament to the remarkable resilience shown by Singer during the COVID-19 pandemic and how the retail giant adopted to new challenges with marketing innovations and operational efficiencies to maintain a stable performance throughout the year 2020.
SLIM Restart Resilience Awards 2020 organized by the Sri Lanka Institute of Marketing (SLIM) is part of the Restart Sri Lanka initiative, rolled out to provide necessary impetus for the businesses and to revitalize the country's economy. Restart Resilience Awards 2020 recognized and rewarded the outstanding efforts of organizations including marketing innovations, adaptability and perseverance to overcome the challenges from the pandemic.
Commenting on the accolade, Group CEO at Singer Sri Lanka PLC, Mahesh Wijewardene said, "This particular award is very special for us as we had to move beyond our comfort zones and showcase great resilience to overcome the impact of COVID 19. We had faith in our team of highly dedicated individuals and they have delivered at the right time. We would not have been able to win this award unless our team rallied behind together. I dedicate this award to our entire team, valued customers and stakeholders for supporting us."
"We are highly honored to have won this prestigious award from SLIM for our positive outlook during the pandemic. We ensured that we reached the customers via innovative digital marketing campaigns and through our fully-fledged Singer.lk website. We continued to serve our customers with all safety measures in place while also ensuring the safety of our employees. Customers have duly appreciated us for our safety-first delivery services and exclusive aftersales services and overall safety measures during the pandemic.'' Marketing Director at Singer, Shanil Perera stated.
The pandemic resulted in unforeseeable challenges across organizations of all sizes. Almost all the businesses have been affected by the pandemic, be it from customer interaction, buying behavior changes, supply chain disruptions and so on. While many companies have found it difficult to overcome these challenges, Singer swiftly adopted COVID resilient initiatives and ensured an uninterrupted service even during the pandemic.
Singer Sri Lanka PLC is the leader in Sri Lanka's consumer durables market and is renowned for offering a wide range of top-quality local and international brands to its growing number of consumers across the country. With over 430 retail outlets, a strong dealer network and E-commerce platform (www.singer.lk), Singer owns a portfolio of over 600 electronic items, 1200 home appliances and boasts more than 50 internationally renowned brands.
Photo Caption
Group CEO of Singer Sri Lanka PLC, Mahesh Wijewardene receiving the SLIM Restart Resilience Gold award