Huawei smart devices bring seamless connectivity that makes way for an immersive experience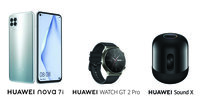 With the unprecedented surge in Work From Home (WFH) and Learn From Home (LFH) scenarios, the demand for technology solutions have increased more than ever. Technology has overwhelmed every aspect of life, be it work, studies, entertainment and leisure while becoming an integral part of each household.
While most people have to work with multiple devices such as laptops, tablets, smartphones and other tech gadgets, it demands a high level of integration with each device for a better user experience. Huawei, the global smartphone manufacturer has pioneered this integration with its 1+8+n strategy which connects all Huawei devices under one ecosystem while the smartphone acts as the central device. This pioneering connectivity solution is attached to Huawei's AI life scenario which aims to provide users an immersive and connected experience.
Having a combination of smart devices undoubtedly enhance the productivity at office or at home. The smartphone and laptop or tablet combination allows the user to easily attend to smartphone's tasks via the laptop or tablet. For example, the user can reply to messages via the laptop while he/she is engaging in the office work. This connectivity goes beyond office work to day to day activities like sports, workouts and entertainment. The innovative tech solutions such as smartwatches and audio systems ensure that the user can engage in daily tasks seamlessly while being entertained at the same time.
Huawei Nova 7i is a powerhouse of a smartphone with seamless connectivity capabilities. Its attractive design is further augmented by the highly potent features associated with it. A major highlight of Nova 7i is its AI Quad camera set up which lets the user take breath-taking photos and videos, be it day or night.
Nova 7i features a 48MP main camera, 8MP Ultra-wide camera, 2MP Macro camera and 2MP Depth camera that work in conjunction to produce professional-quality photos and videos. The camera app has several unique and advanced modes such as Photo, Video, Pro, Night, Portrait, Panaroma, HDR, slow motion, Super Macro and Time Lapse, enabling the user to be creative and capture inspiring photos. It also features a highly functional 16MP selfie camera slotted in a way of punch hole in the upper left corner of the screen.
Huawei Nova 7i is powered by a 8GB RAM and a Kirin 810 highly advanced chipset ensuring a lag free, faster performance. Its 128GB storage enables the user to store ample photos, videos, apps and games. A 4200mAh bigger battery ensures a long lasting performance while the battery can be charged up to 70% in just 30 minutes courtesy of 40W Huawei Super Charge Technology.
While Nova 7i can be connected with several Huawei devices, Huawei Watch GT2 Pro is one such multi-purpose smartwatch worth exploring due to its innovative features and effectiveness when connected with a smartphone.
This light weight and 1.3 inches smartwatch with an elegant design made of a titanium body and sapphire crystal watch dial is far more enticing when it comes to its features and performance. Offering more than 100 customised workouts, more than 10 running courses, several useful metrics for everyday life, Huawei Watch GT2 Pro is the perfect partner for a joyful life. It also features a dedicated golf mode which analyses the swing posture and provides suggestions to improve swing speed and frequency. Metrics such as Blood Oxygen saturation (SpO2), heart rate and sleep monitoring ensure a healthier life.
When connected to Nova 7i or any smartphone via Bluetooth technology, the user no longer needs to keep the smartphone while engaging in workouts. The smartwatch literally turns into a mini smartphone allowing the user to answer/ reject calls, view call history and snap photos.
A high quality audio system is quintessential for entertainment. Huawei Sound X is the perfect fit for sudden ideas that end with parties and gatherings. The user can seamlessly connect the smartphone with Huawei Sound X for a true audio experience. Powered by Devialet's audio technology, Huawei Sound X comes with dual sub woofers offering high fidelity audio with real time audio signals.
Devialet's Push-Push acoustic design brings stability to the speaker which ensures distortion-free audio quality at any volume level. In addition to the dual sub woofers, the speaker comes with 6 powerful tweeters which utilize Huawei's sound algorithm to produce stunning surround sound.
Huawei Nova 7i, Huawei Watch GT2 Pro and Huawei Sound X are three of the best devices in their classes. When connected, they bring ample opportunities for entertainment while helping the everyday activities of the user. Huawei Nova 7i is available to purchase for Rs. 47999, Huawei Watch GT2 Pro for Rs. 54999 and Huawei Sound X for Rs. 57999 at all Huawei experience centers, island–wide Singer showrooms, authorized resellers and can be ordered online via Daraz.lk and Singer.lk.