The Big Bad Wolf Book Sale "Howls" Online Once Again!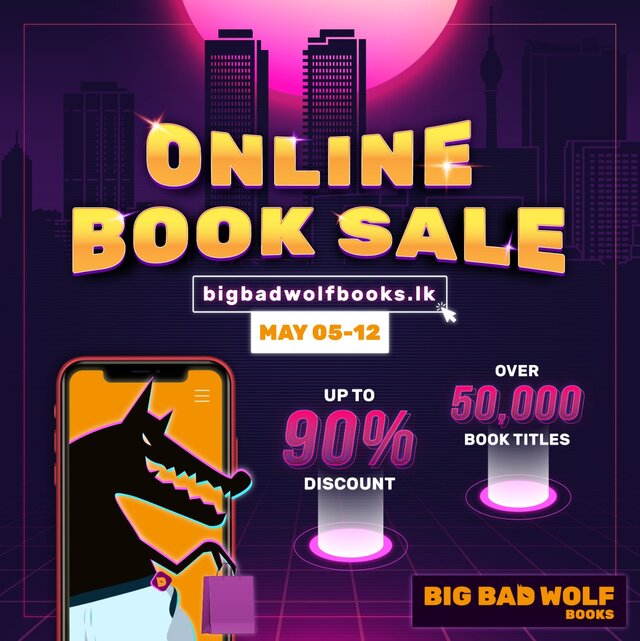 Get ready as the World's Biggest Book Sale, the Big Bad Wolf Book Sale makes yet another virtual return to Sri Lanka for the second consecutive year in its fifth entrance to the country. The Book Sale is just around the corner and is bound to bring much excitement among its Wolf pack and book enthusiasts. The Online Book Sale is scheduled to go live from 5th to 12th May 2021 and is poised to be BIGGER and BETTER, offering books at amazingly low prices!
The decision to stick with a virtual Sale format for two consecutive years is primarily to safeguard the wolf pack, so that they can enjoy the Sale from the comfort and safety of their own homes, as well as the fact that international travel and restrictions have not returned to Pre-Covid levels. As last year's online Sale hinted, the fans are more than happy to meet the Wolf online.
This year's Online Sale will see improvements in all aspects thanks to last year's first ever Online Sale that helped to figure out the necessary changes and improvements which need to be made.
This year, the much-anticipated Big Bad Wolf Online Book Sale is expected to showcase a selection of over 50,000 new English book titles, ranging from fiction, bestsellers, literature, non-fiction, business, cookbooks, art and design, as well as coffee table books, all on offer with massive savings of up to 90% off the recommended retail prices!
The Online Sale will be further developed to serve the 24-hour online shopping experience with an even smoother home delivery service.
In addition, the Wolf has partnered with Sampath Bank as the official banking partner for the sale in order to provide the fans with a safe and secure method to complete payments.
The Wolf Fans can also expect an array of exciting games and competitions hosted by the Wolf's official radio partners: Lite 87 and TNL Radio.
We invite all book lovers across Sri Lanka to stay tuned for more updates on what's to be expected at the Online Sale coming soon!