INIVOS Consulting and IFS ink new deal with Global Sea Foods (Pvt) Ltd. to streamline its Supply Chain and Finance processes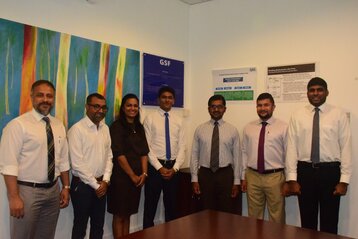 INIVOS Consulting, a fully-fledged Sri Lankan Enterprise Resource Planning (ERP) solutions provider announced its latest business venture with Global Sea Foods (GSF), a leading sea food provider in Sri Lanka, to integrate IFS applications to streamline their supply chain and finance processes.
INIVOS, a catalyst in driving digital transformation for business, will be implementing IFS applications to streamline GSF's supply chain and finance processes whilst focusing on accelerating exports, warehouse operations and storage management.
Global Sea Foods (Pvt) Ltd, is a leading processor and exporter of seafood products with a strong presence across the globe. GSF has set itself apart as a company that focuses on delivering sea food with freshness, quality and safety to the consumer. Located in Badalgama, Sri Lanka, GSF caters to the sea food needs in a 50,000 sq.ft processing area with a capacity of over 100,000 tons of fish per week.
Commenting on the new venture, Asanga Marasinghe, Managing Director at INIVOS Consulting said, "We are indeed happy to begin our journey in 2021 with a renowned company like Global Sea Foods. GSF team had strong confidence and faith in INIVOS and IFS as they entrusted INIVOS to integrate IFS applications to streamline their supply chain and finance processes. With GSF's pedigree as a global supplier, we know IFS applications can play a big role in optimizing supply chain, boosting operational efficiencies and financial systems. We see it as the start of a fruitful partnership between the three organisations as we are confident that, the latest IFS solutions backed by a well experienced team at INIVOS, can deliver a quick turnaround for GSF"
We are excited to continue our journey of digital transformation with IFS & INIVOS" said Sanjaya Samararatne , CFO Global Seafoods (Pvt.) Ltd. "A diversified business such as ours requires powerful and user-friendly tools to ensure there is only one version of the truth and that we are using reliable, real-time data for decision-making. IFS has been used by our sister company Global Rubber Industries since 2018 where the system proved it's agility and robustness meeting our ever changing business needs and shifts in go-to-market strategies. We are confident that IFS and INIVOS will continue to empower us and provide us the trajectory that we seek for our aggressive growth plans in years to come"
Shiraz Lye, Managing Director /Vice President Sales IFS South Asia added, "We are delighted that a leading exporter such as Global Sea Foods has chosen IFS Applications to fuel it's key business operations. A leader in its sector Global Sea Foods, plans to scale up operations and reach in world market and for that it needs a equaling scalable robust product like IFS Applications. Happy to partner with such a company for an exciting journey. Our solutions and it's capabilities have been experienced firsthand by its subsidiary company of GSF – Global Rubber Industries. IFS Solutions have helped GRI maneuver the changing business landscape and have delivered business outcomes. Hence I am confident that we would roll out the same success of GRI to GSF together with our partner INIVOS Consulting who has done multiple implementations in Sri Lanka.
The project implementation will be carried out by an experienced team of consultants at INIVOS Consulting in a fully transparent manner making way for the fruition of the expected outcomes.
About INIVOS Consulting
Based in Colombo, Sri Lanka, INIVOS Consulting (www.inivossl.com) has emerged as a key player in the ERP segment helped by its highly experienced team of consultants. INIVOS has been able to build a strong client base in Sri Lanka, Asia, Middle East, South Africa and Europe within a short time span. INIVOS caters to the business requirements of the enterprise sector via serving IFS offerings, Its channel partnership with IFS was recently extended to the sub-Saharan African region. Being experts in IFS applications, INIVOS consultants exceed customers' expectations to ensure 100% satisfaction in all its service offerings and provide guidance and recommendations on the best suited solutions whilst customers can afford to customize the chosen solutions to meet their needs.
Learn more about us www.inivossl.com
About IFS
IFS develops and delivers enterprise software for companies around the world who manufacture and distribute goods, build and maintain assets, and manage service-focused operations. Within our single platform, our industry specific products are innately connected to a single data model and use embedded digital innovation so that our customers can be their best when it really matters to their customers—at the Moment of Service. The industry expertise of our people and of our growing ecosystem, together with a commitment to deliver value at every single step, has made IFS a recognized leader and the most recommended supplier in our sector. Our team of 4,000 employees every day live our values of agility, trustworthiness and collaboration in how we support our 10,000+ customers. Learn more about how our enterprise software solutions can help your business today at ifs.com.
ENDS
Image Caption:
Image 1: Left to Right: Shiraz Lye- Managing Director/VP Sales IFS South Asia, Subhashana Suwandarathne- Director INIVOS Consulting, Ayomi Gunawardena-Director INIVOS Consulting, Asanga Marasinghe- Director INIVOS Consulting, Sanjaya Samararatne- CFO Global Sea Foods (Pvt) Ltd., Tharaka De Alwis – DGM IT & Innovation, Pamith Kodikara – Programme Lead – Digital Transformation