Ocean Lanka Revolutionises Sustainable Delivery with 'Ocean Aqua+' Dyeing System
New indigenous dyeing system provides more operational stability, while reducing carbon and water footprint
Ocean Lanka, Sri Lanka's largest weft knitted fabric manufacturer, successfully implements 'Ocean Aqua+', a new indigenous dyeing system that revolutionises the fabric dyeing process, while helping to preserve the environment with a low level of demand on resources. The latest innovation, which is the brainchild of Ocean Lanka's Dyeing and Colour Lab teams, has already had a significant impact on increasing the capacity utilisation and overall productivity.
Commenting on the game-changing technology, Managing Director of Ocean Lanka, Dr. Austin Au said, "There were times during the dry season, where we had to deploy water bowsers to carry out production in our dyeing plant. After evaluating our water consumption, we understood that the actual performance of multistage washing operations depends on the chemical system and optimising the washing process could conserve significant amounts of water and energy. This gave us a new impetus to kick-start the 'Ocean Aqua+' project in 2019. I'm overjoyed that the tireless efforts of our staff have finally borne fruit in the form of an eco-friendly and cost-saving dyeing process, especially for deep and vibrant coloured fabrics (e.g. black & scarlet red)."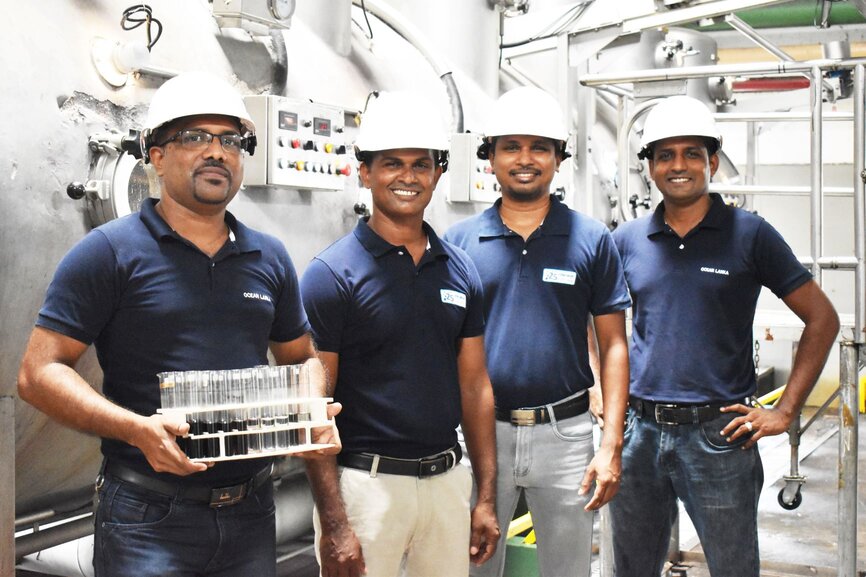 The 'Ocean Aqua+' dyeing system shortens the fabric-dyeing phase, accelerating the process time by more than 30 percent. At the same time, it reduces energy consumption by 20 percent and the water requirement by 50 to 60 percent. By conserving water at the earliest stage, the traditional process of manufacturing textiles remains the same, as opposed to significant investment and cost for water free dyeing technology.
Senior Manager Dyeing & Finishing, Sadun Nalaka added, "As a responsible corporate citizen, we believe that reducing water consumption in textile processing is important for furthering pollution prevention efforts, due in part because excess water use dilutes pollutants and adds to the effluent load. On the other hand, reducing wastewater also mitigates the need for expensive waste treatment systems."
About Ocean Lanka
Established in 1996, Ocean Lanka (Pvt) Ltd is Sri Lanka's largest weft knitted fabric manufacturer with over 25 years of experience in producing high quality, world class fabrics to renowned international brands including Victoria's Secret, PVH (Tommy Hilfiger/Calvin Klein), Nike, Uniqlo, GAP, Amazon, Michael Kors, Marks and Spencer, Lacoste, Puma, Intimissimi and Hanes. The company is a joint venture between Hong Kong based Fountain Set Holdings and local apparel giants Hirdaramani Group and Brandix Lanka Limited, and stands out as the first-ever manufacturer within the textile and apparel industry of Sri Lanka to come into system partnership with bluesign®.
Photo Caption: 'Ocean Aqua+' Dyeing System Project Team