Hemas Consumer continues its commitment to assist communities in need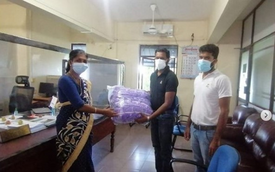 Hemas Consumer has stepped forward to donate personal care items to assist the Sri Lanka Army Sewa Vanitha Unit in an effort to give back to the community, which is fighting against the Covid-19 outbreak. The donations included a considerable amount of personal care items to be used for the urgent needs of Covid patients, being treated at the Sri Lanka Army improvised Covid-19 hospital at Seeduwa.
As a truly local conglomerate, Hemas Consumer has been at the forefront of community support initiatives from the time the pandemic started in 2020, driven by the passion to assist all Sri Lankans to overcome these unprecedented challenges. The timely initiative was backed by Hemas Consumer Brands who joined the worthy course with donations including Clogard toothpaste, Dandex shampoo and Fems Sanitary towels.
Having assisted the Sri Lanka Army Sewa Vanitha Unit, Hemas continued to extend its support to combat the Covid crisis by donating personal care items to the Department of Ayurveda, whose hospitals have been converted to Covid treatment centers. Responding to the urgent need, Hemas donated sanitary napkins to the Batticaloa District as a Covid relief. Hemas once again came to the aid by donating sanitary napkins to the flood victims of Gampaha District, which was among the largely affected areas from the recent torrential rains.
Commenting on the series of donation campaigns, Fiona Juriansz Munasinghe – Director Marketing Hemas Consumer said, "Hemas is a truly local company that focuses on the welfare of the community, enriching lives through healthful living. We have taken a step forward in supporting our fellow citizens every time the country was faced with a challenge. We believe that through a collective effort we can overcome these challenges and this is the right time for us to stand with the entire nation."