Huawei Service Carnival brings exciting offers to make your devices always "new"
Huawei, the global smartphone brand has rolled out the Huawei Service Carnival from 19th July to 30th September 2021 at island wide service centers. Huawei will be rewarding its loyal customers by offering exclusive offers and promotions in order to provide a new look to their devices. The Huawei Service Carnival brings unique offers and discounts from spare parts replacement up to 50% off, One Price battery replacement, free clean up services and Share-to-Win activity, etc.
Huawei announces up to 50% discount on selected spare parts replacement, offering access to original spare parts with a 90-day official warranty. One Price Battery replacement activity enables the customers to replace a battery at a lower price alongside a 90-day warranty. Customers may take their Huawei smartphones, tablets, and other Huawei devices to any of the service centers during the Huawei Service Carnival for a free device disinfection, cleaning and inspection services.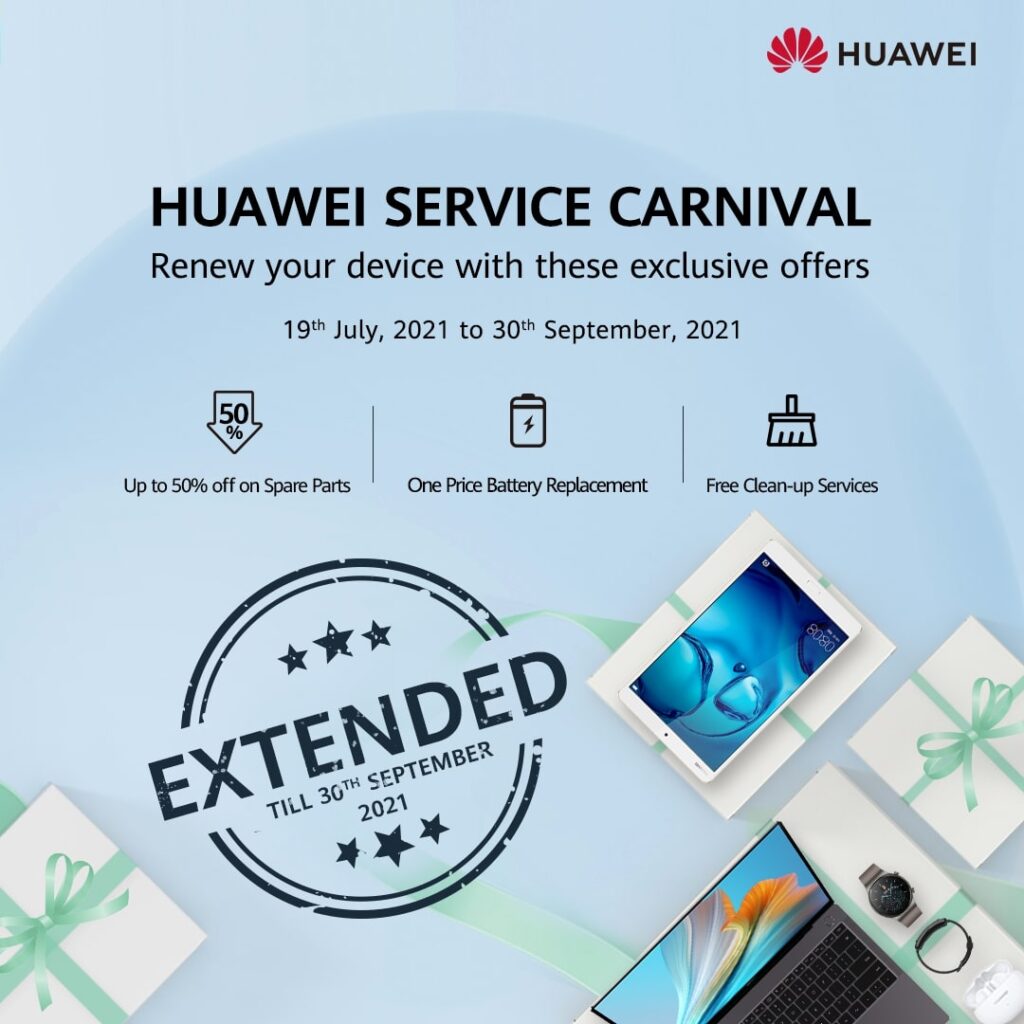 The most exciting feature of the carnival is the Share-to-Win activity where customers are eligible to win exciting gifts. All they need to do is like and share the official Huawei Service Carnival post to Facebook with their feedback about the event including the hashtag #HuaweiServiceCarnivalLK. If the post reaches a minimum of 100 likes, the customers are requested to take a screen shot and show it to a staff member at service centers in order to receive the gift. (The stocks and type of gifts are subject to parts' availability and on a first come first serve basis.)
Commenting on the ongoing Service Carnival, Peter Liu, Country Head of Huawei Devices, Sri Lanka said, "We are pleased to extend the Huawei Service Carnival with exciting deals for our valued customers as a means of paying gratitude for them. The activities lined up in the Service Carnival offer special benefits such as warranties and discounts. It is a wonderful opportunity for them to repair their devices with original spare parts from the trust and assurance of Huawei service centers."
To obtain more information about Huawei products, spare parts and battery replacement, services and relevant information, please visit https://consumer.huawei.com/lk/support/huawei-service-carnival-campaign/ or contact 0112423017 for further details.
The leading global provider of information and communications technology (ICT) infrastructure and smart devices, Huawei is committed to bring digital technologies to every person, home and organization for a fully connected, intelligent world. As a global tech giant, Huawei has been duly recognized at renowned awards ceremonies and been constantly featured in global brand rankings. Huawei was ranked 45th on BrandZ Top 100 list of Most Valuable Global Brands, 79th on Forbes World's Most Valuable Brands while the company has featured among top 10 most valuable brands in the latest Brand Finance Global 500 Most Valuable Brands list. Huawei has also achieved the 68th position on Interbrand's Best Global Brands and was also featured in Fortune's Global 500.