SINGER – SIGNATURE dedicated Concept Center opens in Colombo
The local retail giant Singer's partnership with Malaysia's Signature Group last year brought world's leading kitchen systems, wardrobes, TV displays and workstations to Sri Lanka. It opened up Sri Lankans to a blend of Europeanness, elegance, style and products that are manufactured with high quality and time-tested materials.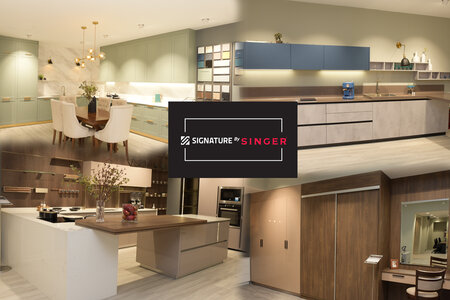 The far sighted vision of Singer team to build a potent network for lifestyle solutions has unveiled the first ever Signature Concept Center in Sri Lanka. This exclusive Concept Center, equipped with modern facilities caters to the increasing demand for lifestyle solutions among B2B customers. It showcases the entire range of Signature products from kitchen systems, wardrobes, TV display units, workstations, etc.
Located in the Duplication Road – Colombo, this Concept Center redefines the customer experience by providing live installation videos and also features a knowledge zone where customers can inspect the cross sections of kitchen units, etc. This one-stop destination facilitates customers to explore, compare and customize the products to suit their needs after the consultation and recommendations from the highly dedicated team at the Concept Center.
Singer previously expanded its local manufacturing plant at Piliyandala to manufacture Signature lifestyle solutions. This state of the art factory continues to operate with a well-trained and qualified team under the purview of the Signature Group – Malaysia. The decision to locally manufacture Signature products brings about a significant boost to the economy and enables Singer to provide international grade products at an affordable price. In addition, the installation time is comparably less, so that customers can avail their customized products within few days and the comfort of reliable aftersales services.
Commenting on the newly launched Concept Center, Mahesh Wijeywardene, Group CEO Singer Sri Lanka PLC said, "We are pleased to announce that our customers can experience an international level experience with our new Concept Center which is dedicated for Signature products. From spacious parking facilities to a variety of products, a highly experienced team, you will experience them all when you walk into this unique Center. Signature's aesthetic masterpieces are no doubt the choice of professionals. We invite everyone from retail, apartments, B2B, construction and projects customers to come and explore the new Concept Center and get your dream lifestyle solutions designed."
A highly renowned brand across the world, Signature blends innovation, high-end design and functionality in all its products manufactured with high quality materials and are built to last. Signature is renowned for staying on par with innovative and contemporary European design in lifestyle solutions with over 25 years of expertise and a strong presence in 15 countries. To schedule an appointment to visit the new Concept Center, please contact Ms. Piyusha on 0763816654