ADFIAP Awards 2021 crowns Alliance Finance with two awards in recognition of its sustainability drive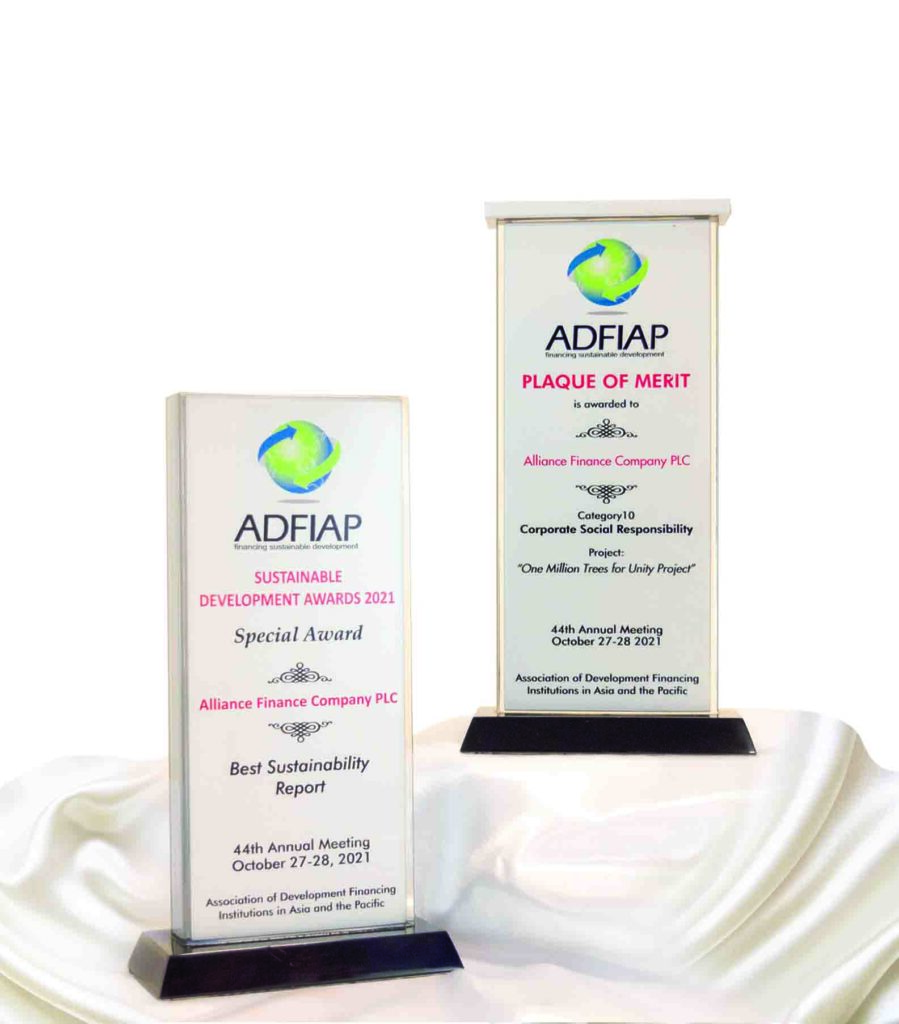 Forging its way to yet another remarkable achievement, Alliance Finance Co. PLC (AFC) has clinched two awards in recognition of its commitment towards socially and environmentally sustainable practices, at the Association of Development Finance Institutions of Asia and the Pacific (ADFIAP) 2021 Awards ceremony. AFC won the Merit Award under the Outstanding Development Projects – Corporate Social Responsibility category, for its One Million Trees for Unity Project and another special award under the Best Sustainability Report category.
The ADFIAP Awards is a premier awards event in the Regional Development Banking and Finance sector's calendar which recognizes the outstanding efforts of development banks and development finance institutions towards socially and environmentally sustainable development.
AFC emerged victorious for its flagship environmental sustainability project: "One Million Trees for Unity", which was launched in 2019 as the second phase of the AFC "Thuru Mithuru" program. During the first phase of the project, AFC pioneered in planting over 176,000 trees across the island with the participation of over 370,000 school children in 991 schools. AFC's latest tree planting campaign pledges to plant 1 million trees by 2024 and support the fight against climate change. The ongoing project has contributed over 300,000 trees to the Mother Nature with the support of project partners such as the, Tri forces of Sri Lanka, Road Development Authority (RDA), Lions Club, Norochcholai Power Plant, State Universities, schools and religious places.
This year's special award for the sustainability report is the second international recognition AFC has received for an annual report. AFC has been upholding the best practices in reporting to provide accurate and timely information to its stakeholders with 100% transparency. In doing so, AFC follows the integrated reporting format introduced by the International Integrated Reporting Council for all its annual reports and its sustainability report is compiled in line with the GRI sustainability reporting standards.
"We are indeed proud of these two accolades that we received as a result of our commitment to sustainable value creation," says the Deputy Chairman and the Managing Director of Alliance Finance PLC, Mr. Romani de Silva "Since we adopted the triple bottom line business philosophy in 2012 by institutionalising the values and principles of our founders, we have been constantly focusing on social endeavours and environment protection initiatives with a deep understanding of our share and responsibility towards the society and environment. Sustainable initiatives such as tree planting campaigns have never been more crucial than now. It is high time that we put our ideas into actions and make a difference. At this joyous occasion I would like to dedicate these two awards to the brilliant team of AFC that I am privileged to lead, whose efforts helped us earn this recognition. Prior to winning these two awards, AFC has been recognized at the ADFIAP 2019 Awards event for its contribution towards social entrepreneurship development. The Merit award is the fifth international award AFC received for its commitment towards sustainability. As a socially responsible organization, AFC has been investing around 3-4% of its profit each year towards sustainability initiatives. AFC's contribution towards sustainability initiatives during FY20/21 has accounted for over 12Mn, which included initiatives with great social impact. In 2020, AFC became the first finance company in South Asia to be certified for holistic sustainability under the pioneering Sustainability Standards and Certification Initiative (SSCI), an achievement AFC is highly proud of.
AFC's approach to sustainability efforts is driven by the visionary leadership of AFC's Deputy Chairman and Managing Director – Mr. Romani de Silva and the Board of Directors. AFC continues to invest in sustainable projects and strengthen its sustainable network through partnerships with like-minded stakeholders. Among the notable contributions of AFC towards environmental protection initiatives, the company lent a helping hand to the Thuru Viyana Plant nursery project of Ath Pavura Social Business platform making it the main supplier for all AFC tree planting projects. The Company has also worked with Wilderness and Wildlife Conservation Trust on a project to protect Hill Country Leopards, enabling the conservation of 35 other flora and fauna species along with the Leopards in the project location. AFC continues to stay true to its purpose of "making the world a better place through sustainable finance"
About Alliance Finance PLC
Alliance Finance PLC is an award-winning licenced finance company in Sri Lanka with a legacy of over 60 years in the finance business, serving four generations of loyal customers, supporting financial inclusion and sustainability. AFC has a shared vision to foster growth and prosperity of its customers while building trust and enduring relationships with them. Environmental and sustainability initiatives are at the centre of AFC's CSR agenda, which embodies the company's drive towards the triple bottom line approach.