vivo Launches Special Consumer Promotion to Commemorate its 4th Anniversary in Sri Lanka
– vivo Sri Lanka, on the occasion of its 4th anniversary, partners with key online platforms BuyAbans and Singhagiri for special consumer promotion, offers exciting freebies and merchandise as rewards.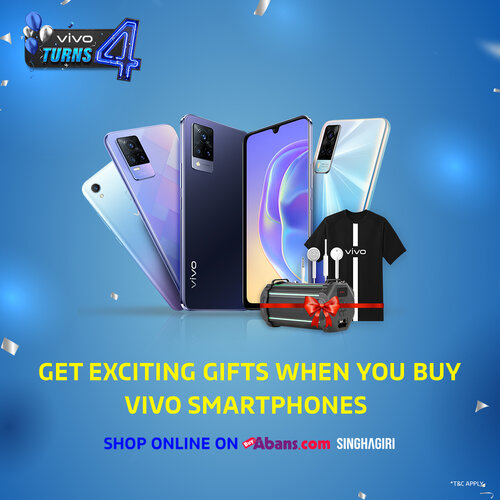 vivo, a leading global smartphone brand, on the occasion of its 4th anniversary in Sri Lanka, launches a special consumer promotion via its key online partners – BuyAbans.com and Singhagiri. The brand will reward customers with exciting prizes during the promotion period, starting 28th October – 7th November 2021.
On purchase of select vivo V and Y series smartphones such as the Y1s, Y12s, Y20, Y20s, Y53s, V21e, and V21 5G during the promotion period, customers stand a chance to win exciting prizes via the online platforms. BuyAbans.com offers vivo t-shirts and earphones and allows payment to be made in installments with 0% interest up to 48 months with leading credit cards. Along with vivo t-shirts and earphones, Singhagiri also puts forward Bluetooth speakers for customers and trouble-free 0% interest installment plans up to 36 months on using leading credit cards.
Alison Jin, Director, vivo Sri Lanka, says, "It has been a fantastic experience, and we are delighted to be completing the four-year mark in Sri Lanka, which is a critical market for vivo. With innovation and customer-centricity at the forefront, vivo strives to deliver the best-in-class technologies to its customers every step of the way. We abide by the Benfen philosophy of doing the right things the right way and thus believe in building meaningful relationships with our audiences and giving back to the community. We are truly thankful for all the love and unwavering support we have received from our customers these past years, and this special promotion is our way of expressing our gratitude to them. We would also like to thank our esteemed online partners, BuyAbans and Singhagiri, for their support in making this promotion possible."
For more information, visit vivo Sri Lanka's official Facebook page, www.buyabans.com, and www.singhagiri.lk.