How Can I Make Brushing Teeth a Fun Activity for My Child?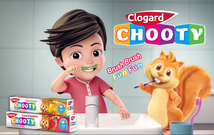 Helping your kid brush their teeth can sometimes feel like you're going to battle. The second your kid sees you walking towards them with the toothbrush, they may start to scream and cry in an attempt to get out of brushing their teeth. And, if you miraculously manage to take them to the sink, you'll encounter the next issue – getting them to open their mouths wide enough to brush their tiny little teeth. But it doesn't have to be this way.
Try these simple tricks so that your kid has fun brushing their teeth routinely.
Allow Them to Pick Their Toothbrush.
Show your kids a sense of ownership – let them pick their toothbrushes to uplift their interest and motivation to brush. One of the reasons why kids are reluctant to brush their teeth is because it is a chore and uninteresting to them, Clogard Chooty toothbrush would be the ideal pick for them, as it comes in vibrant colours and it's made specially for their little teeth.
Get Them to Brush Their Toy's Teeth First.
Getting your kids to brush their favorite toy's teeth helps them get rid of the fear of brushing. Brushing their toy's teeth first will help them bet used to the toothbrush before they use it themselves.
Try a New Fruity Flavoured Toothpaste.
Let your kid choose his/her toothpaste as well so that they feel involved in the task. Kids usually prefer fruity flavored toothpastes, they can try Clogard Chooty's strawberry and mango flavored toothpaste, which is two of the favorite flavors among kids.
Show Your Kids the Way – Brush With Your Kids.
To encourage your kids to brush their teeth, show them how to brush, and you can even brush your teeth together. Once they see you doing it, your kids will be more interested in doing it as well and be more willing to brush their teeth.
Sing a Happy Song.
Put on a song meant for kids that's about two minutes long with a happy tone, which is the suggested brushing time. After some time, your kid will start to associate that particular song with brushing their teeth and will feel happier about doing it.
Use Rewards to Motivate Them.
Using the reward system can help motivate your kids to brush their teeth as well. Just be sure that the prize isn't sweets or any unhealthy snacks because that will result in tooth decay. Instead, try something simple, like reward them with a sticker daily so that they can make a collection or plan a trip to the park.