vivo Customers can Avail Dedicated Services and Discounts on 21st December, on vivo Service Day 2021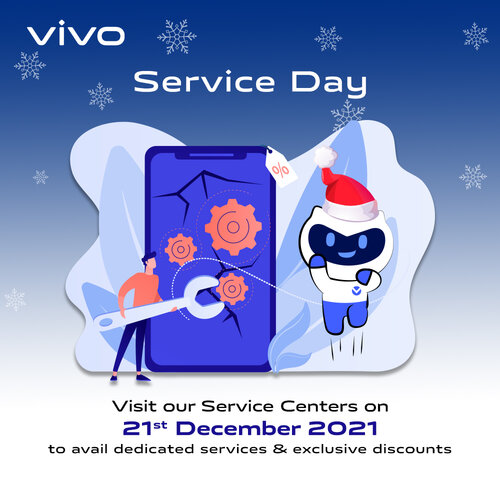 vivo, a leading global smartphone brand, today announced that it is offering dedicated services and discounts exclusively on 'vivo Service Day 2021', on 21st December. On this day, vivo customers can avail special offers and free services on smartphones and accessories at authorized vivo service centers.
vivo is focused on their customer's satisfaction, and with this initiative, the brand is strengthening its customer service base and offerings in the country. Customers can avail 10% discount on all accessories purchased at authorized vivo Service Centres on 'vivo Service Day 2021'. Customers can also opt for an array of free services including free detection, free cleaning, free system recovery & upgrade, free protective film applying at zero labour cost.
On this exciting news, Alison Jin, Director of vivo Sri Lanka, said, "As a consumer-centric brand, customer experience is at the core of everything we do. Our priority is to provide services and experiences that meet the growing demand of the users. Today, we are thrilled to announce the 'vivo Service Day' in Sri Lanka which will strengthen the relationship and trust between vivo and its consumers. We hope to continue to deepen our consumer connect and provide convenient services to vivo customers in the future."
Recently, vivo also announced that it is offering their customers with a gaming program at their vivo service centers in Sri Lanka to keep customers entertained while their repairs and services are underway. Customers can choose from a wide array of games, handheld toys and fun activities to participate upon entering the vivo service centers, till their devices are restored or upgraded with free services to their original glory by vivo's expert technicians.
It's important to note that vivo is abiding by the COVID-19 health regulations, with precautions and safety measures implemented at all of their service centers.
Alison Jin added, "vivo understands that waiting at service centers can be a tedious task. We thus launched the new program to leave no stone unturned in making the lives of our customers easier."
vivo has two service centers in Sri Lanka, in Colombo and Galle. For more information on vivo Service Day 2021, please visit vivo's Official Website or write to them on [email protected] or call at 0112029184.
###