DIMO introduces the all-new Komatsu PC210-10M0 Excavator to Sri Lanka
DIMO, a leading diversified conglomerate in Sri Lanka, recently introduced the all-new Komatsu PC210-10M0 Excavator to Sri Lanka. The first PC210-10M0 Excavator was delivered to Dr. Kithsiri Manchanayake at a Komatsu Customer Get-together which was held in Gampaha region recently.
Through this latest introduction, DIMO aims to cater to the increasing customer demand for fuel-efficient excavators with many new features. The new machine was introduced to the market under the theme '200 න් 300 ක වැඩ'that highlights the fact the Komatsu PC210-10M0 Excavator has the capacity to perform as a 300-class (30ton) machine while offering a 40% increased productivity in comparison to the PC200-8 model, which operates at a 200-class (20-ton). It offers the customers the opportunity for greater productivity at a considerably lower cost. Backed by the exceptional Japanese technology, the machine is guaranteed with excellent durability and is suitable for any work site or condition in Sri Lanka, while its environmentally friendly tier 3 engine reduces emission of carbon.
Mr. Chaminda Ranawana, Executive Director of DIMO stated, "We recently celebrated 50 years of a strong relationship with Komatsu in Sri Lanka and we are honoured to have partnered with them in DIMO's continuous efforts to provide high quality products for the construction and mining sector in the county. The all-new Komatsu PC210-10M0 Excavator is another notch in DIMO's belt that further solidifies our continued efforts to introduce global technology to Sri Lanka with the aim of further enhancing the local industry."
Mr. Ranjith Pandithage, Chairman & Managing Director of DIMO commented, "DIMO is always in the forefront of developing the country's infrastructure with our state-of-the-art engineering solutions. Introduction of these latest engineering innovations underpin our journey of fuelling dreams and aspirations of the communities we serve."
The latest Komatsu excavator is equipped with large bucket capacity of 1.20 m3 which is one of the key features. The Komatsu PC210-10M0 comes with 165 horsepower, an increased machine stability, powerful digging operations and an enhanced travel performance. A lower fuel consumption offering around 25% saving on fuel, an advanced management system and the modernized hydraulic pump system are few of the factors that have made the Komatsu PC210-10M0 a great value addition to the local industry.
It also offers a reduced maintenance time, a detection system to prevent failure of the main component and the feature of displaying maintenance information on the screen. The machine also comes with a large multi-lingual high-resolution LCD, an equipment management monitoring system, and a rear-view monitor system.
The Komatsu PC210-10M0, offering safety and comfort; built-in intelligence; and most importantly smart and easy maintenance, is further fuelled by 08 decades of DIMO Trust and DIMO's superior aftersales service capability coupled with 24-hours technical assistance.
Photo Captions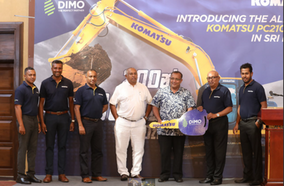 IMAGE 01
From left: Thisara Duminda, Sales Executive (Construction & Mining Machinery Sales) of DIMO, Damitha Wickramasinghe, Deputy General Manager (Construction & Mining Machinery Sales) of DIMO, Chaminda Ranawana, Executive Director of DIMO, Gahanath Pandithage Group CEO of DIMO, Dr. Kithsiri Manchanayake, Ranjith Pandithage, Chairman & Managing Director of DIMO, Chinthaka Basnayake Product Manager (Construction & Mining Machinery Sales) of DIMO at the handing over of The first Komatsu PC210-10M0 Excavator.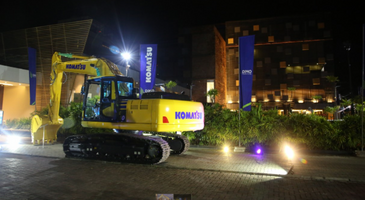 IMAGE 02
Newly Launched Komatsu PC210-10M0 Excavator
About DIMO
Diesel & Motor Engineering PLC (DIMO) is involved in a number of related fields and represents many prestigious principals – Mercedes-Benz, Siemens, Jeep, KSB, TATA Motors, MTU, Komatsu, Michelin, Zeiss, MRF, Bomag, Claas, TK Elevator, Mahindra Tractors and Stanley to name a few. From a company known for vehicles, DIMO today has diversified into many areas. Medical Engineering, Building Management Systems and Services, Power Generation and Distribution, Material Handling, Storage and Warehouse solutions, Power Tools, Agricultural Equipment, Total Lighting Solutions, Power systems and Generators, Refrigeration, Ship Repairing and Driver Training Courses are some of the areas into which DIMO has entered during the past few decades. DIMO has also diversified into fertilizer and agriculture input market. DIMO successfully entered into overseas markets in the Maldives and Myanmar, by expanding their Marine and General Engineering services through partnerships in the Maldives and their automobiles and automobile servicing segments into Myanmar. DIMO is currently working to consolidate on current overseas operations with new markets in East Africa.