Dr. Nirmal De Silva wins 'Outstanding Corporate Trainer of the Year – Management & Leadership (South Asia)' for the second time
Dr Nirmal De Silva was recognized as the 'Outstanding Corporate Trainer of the Year – Management & Leadership (South Asia)' at the 4th SOUTH ASIAN BUSINESS EXCELLENCE AWARDS held recently at the Grand Monarch Imperial in Colombo. The Gala Event saw participants from all the South Asian countries with awards presented in more than 25 broad categories. Dr. De Silva was recognized with this award for his passion, dedication and commitment towards training, mentoring and empowering people especially on a pro-bono basis across of Sri Lanka. Dr. De Silva in the last 15 months alone has conducted more than 110 programs across 15 districts on face to face & webinar mode directly or indirectly impacting more than 12,000 individuals. Incidentally Dr. De Silva won this same award at the 3rd edition of the awards program when it was last held in 2019.
The rigorous judging process for the awards consisted of 5 independent professionals from across the globe who have direct industry experience, in-depth understanding of the current state-of-the-art standards, technology, academic research and market trends. The Chairman of this year's judging panel was Dr. Khyati Shetty Datta, The Campus Director of Focus College in Canada. The South Asian Business Excellence Awards were introduced to acknowledge and reward the exceptional work and the results gained by the trailblazers of the corporate domain, in the face of an ever-increasing competitive market. The 2021 edition of the Business Excellence Awards sought out the leading lights of the business industry, looking for those whose creativity, commitment, experience and strong leadership has helped them achieve success in an increasingly challenging corporate climate. The purpose of the awards is to recognize and honour the most respected companies & individuals within a variety of industries, whilst rewarding remarkable success in all its forms throughout the South Asian business community
Dr. De Silva is a visionary business professional with close to two decades of 'C Level' experience in Asia Pacific Region where he has provided leadership to several Multinational and Fortune 500 companies. Dr. De Silva currently serves as the Co-Founder & CEO of Paramount Realty and is also the Founder of TYNA Consulting, which is a Boutique Consultancy focused on Strategy, Leadership Management & Transformational Interventions particularly for SME's and Social Enterprises. Dr. De Silva serves as an Independent Non-Executive at the Regional Development Bank in Sri Lanka. In addition, Dr. De Silva serves on the board of several companies in diverse industries such as agriculture, food & beverage, technology, handicrafts, education, real estate, facilities management, lifestyle services, portfolio management solutions, entertainment and consumer goods. Not only is he a well-respected thought leader, but he is also a much sought after Start up Mentor, Impact Investor, Public Speaker & Thought Leader. He is also an important influencer in shaping up the start -up and social enterprise eco-system in the country. Dr. De Silva is a board member of Lanka Impact Investment Network (LIIN), the Global Entrepreneurship Network (GEN) in Sri Lanka & a member of the National Advisory Committee for Entrepreneurship Development at the Ceylon Chamber of Commerce.
On an academic front Dr. De Silva is an Associate Professor in Business Strategy and is a visiting lecturer and doctoral level thesis supervisor for several local and international universities.
Photo Caption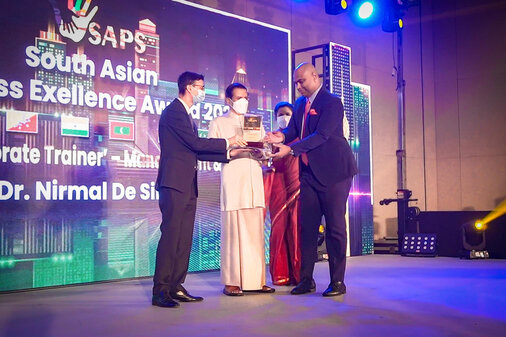 Dr. Nirmal De Silva receiving the award from Former President, Maithripala Sirisena