vivo announces 'Avurudu Wasi Campaign' with exciting gifts and vouchers
This festive season – from 6th April'22 to 14th April'22 – vivo brings a series of exciting engagement activities for fans and a chance to win attractive exclusive items and valuable gift vouchers
vivo, a leading technology brand best known for its innovation, is a highly preferable brand in Sri Lanka. The brand has announced its 'Avurudu Wasi' campaign starting from 6th April'22 to 14th April'22. People can bring in the Avurudu season with amazing gift items and vouchers by participating in digitalised Avurudu games.
This festive season vivo aims to celebrate and enhance the joyous spirit of the people of Sri Lanka with a series of interesting traditional games. The games have been strategically developed to complement the bond, togetherness and family-time using photo sharing and exciting fun activities for fans which can be completed online on vivo's social media channels.
This campaign symbolizes the beginning of good times and new beginnings. With this Avurudu Wasi campaign, vivo aims to offer customers a chance to treat themselves and their loved ones with exclusive gift items like t-shirts, umbrella, backpacks, and other valuable items. Selected lucky families who will share their best moments stand a chance to win valuable gift vouchers from vivo. It is indeed the most interesting campaign to mark the celebrations of Sinhala and Tamil New Year celebrations in Sri Lanka.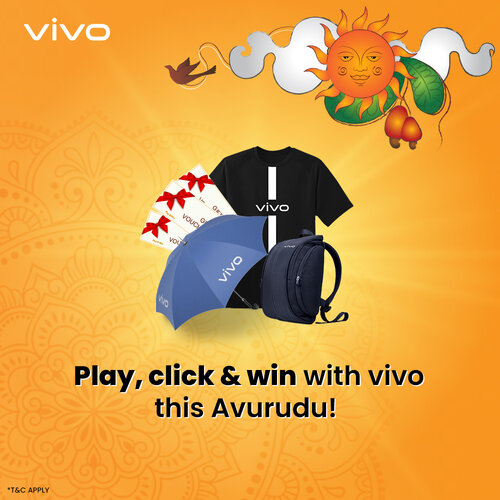 Speaking about the festive season campaign Kevin Jiang, CEO of vivo Sri Lanka said, "We never thought we will be witnessing such unprecedented times in Sri Lanka. But in the face of such challenges, vivo stands strong to support its consumers. With Avurudu starting soon, we pray for this situation passes by quickly. To help our consumers in these tough times and help them cheer up, we have come up with Avurudu Wasi Campaign which will help spread positive cheer and bring out the joy when it's needed the most to create right experiences. People wish to cherish small happy moments and little joyous experiences with their family to maintain freshness in bonds. Guided by Benfen, we as a brand believes in supporting communities and express deep support and empathy for the nation. Glad we could serve people with this opportunity to cherish new beginnings on the occasion of new year celebrations. Avurudu Wasi Campaign is a small token of love we wish to extend via social media channel to set new continue to support and treat our beloved users in Sri Lanka."
For further information about the festive campaign, Avurudu games, and vivo products kindly log on to vivo Sri Lanka official website and check vivo's official Facebook page.
###