Winning the Innovative Diamond Jeweller of the Year Award Vogue Jewellers shines at the Retail Jeweller World Dubai Awards
Vogue Jewellers, a dominant name in immaculate Diamond Jewellery in Sri Lanka was honored as the Worldwide Winner, Innovative Diamond Jeweller of the Year at the Retail Jeweller World Dubai Awards held recently.
This esteemed award has been given based on its Editorial Team Research, held among 150 top and first-class jewelers around the world.
Therefore, Vogue Jewellers outshines once again, setting another record as the first-ever Sri Lankan to receive such acknowledgment.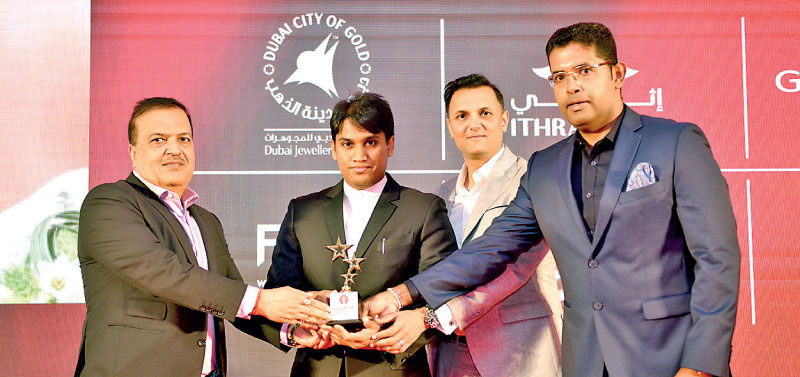 With its lavish dedication to providing the highest standards, Vogue constantly provides immaculate quality Diamond Jewellery that is innovative in design and sincere in standards. Its emblematic designs have frequently been trailblazers, winning several local and global awards, therefore, bringing popularity to Mother Lanka.
Vogue has taken the leadership in motivating the local diamond jewelry industry at large by increasing its standards.
Anura Hemachandra, Vogue Jewellers Managing Director stated, "This year, Vogue Jewellers marks its 60th anniversary and we welcome this global recognition with much pleasure. This award is truly a testimony to the exceptional standards we have preserved at Vogue Jewellers. I am simply honored to lead a skilled team that shines in all appropriate fields from designing and manufacturing to customer service."
He further added, "I take this opportunity to thank them on behalf of the Management for assisting us to outshine in the worldwide fashion industry in this way. I recognize the multifunctional skill that comes with our Chairperson, Chandra Hemachandra, the Board of Directors, and the Senior Management – whose enormous contribution makes certain that the high-quality standards in professionalism and service excellence of our whole team are consistently improved, enhancing our own standards."
Hemchandra also stated, "Most of all, on behalf of Vogue Jewellers, I offer our greatest appreciation to our esteemed customers who have put their confidence in us ever since my late father, Sarath Hemachandra, founding Chairman of Vogue Jewellers, along with my mother opened the doors of Vogue in 1962. You, our valued customers, assisted us to achieve these high standards because you believed in our motto "With you forever"."
He stated it was amazing that bringing home this accolade to our motherland had added some hope to Sri Lanka in these tough times.
Photo Caption – Vogue Jewellers Director Anuradha Hemachandra (second from left) accepting the Award from Sun Tech Business Solutions Owner Pawan Kumar, as Solitaire Gemmological Laboratories Director Chirag Soni and Vogue Jewellers COO Nandana Herath look on.