Baby Cheramy continuously works on giving back to society
Baby Cheramy, the leading baby care brand in Sri Lanka has always aligned its actions with their brand values by continuously encouraging inclusive parenting among Sri Lankan parents. A few months ago, Baby Cheramy came forward with a commitment to support the parents of the sextuplets, who were the first-ever sextuplets to have been born in the country, and pledged to provide baby care products for an entire year.
Udayanga Maravangoda shared his experience of what the past few months have been like. "Having six kids was completely unexpected for both my wife, Dilini, and I. There were many physical, emotional, and financial challenges. Baby Cheramy's help has gone a long way in easing some of the many needs we have. I made a commitment to be a fully involved father and I learned that my role was extremely important in raising my kids. Being an involved father and husband, I was able to provide emotional and physical support to my wife and our family."
Baby Cheramy recognizes the needs of the parents and has come forward to provide the family with essential baby care products, including diapers, shampoo, soap, cream, and cologne. The initial set of products were delivered to Udayanga Maravangoda, the father of the sextuplets in October of 2021.
The mother of the sextuplets, Dilini Wasana Dayananda, also commented, saying, "We are truly fortunate to have had Baby Cheramy be there for us these past few months. Baby Cheramy's commitment to providing us with baby care essentials was very helpful, and it will be the same going forward, as we don't have to worry about purchasing these products for the next few months, which is a big burden off our shoulders. Me and my husband have faced every challenge together, which has helped us give our babies the best possible start in life."
The mother's experience with her six babies has been challenging, but with the support of the father, they were both able to provide the ultimate comfort and care for their little ones. Baby Cheramy witnessed that the father of these sextuplets is a pillar of true encouragement and a role model when it comes to inclusive parenting, which is all about both parents stepping up and contributing to help lay the correct foundation for their kids to grow. Through inclusive parenting, the brand encourages fathers to step up and join mothers in being equally supportive of their children's upbringing.
The brand takes its commitment to driving inclusive parenting right to the ground level by ensuring that parents are educated through their parental clinics and knowledge-sharing sessions. The clinic, Daru Patiyage Lokaya, holds special community programs that assist in fostering early childhood development for the country's younger generation.
Baby Cheramy, the number one baby care and one of the Most Loved Brands in Sri Lanka, is a part of Hemas Consumer Brands with a history of six decades of contributing safe products that cater to the evolving consumer's needs. The brand aims to nurture babies with the utmost care and its product range includes soap, shampoo, baby cologne, baby cream, lotion, baby diapers, baby accessories such as laundry wash liquid or powder, bottle wash, cotton buds, baby gift boxes, and more. Baby Cheramy is also the first-ever Sri Lankan brand to secure SLS certification for baby soaps in recognition of its high-quality products and state-of-the-art manufacturing processes. Baby Cheramy products are dermatologically tested to be mild and gentle on a child's skin and are manufactured using IFRA (International Fragrance Association) certified fragrances.
For more details on Baby Cheramy's products and inclusive parenting, you can visit their website at www.babycheramy.lk or visit their Facebook page at https://www.facebook.com/BabyCheramy/.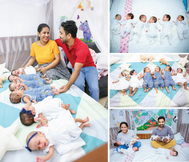 Proud parents Dilini Wasana Dayananda and Udayanga Maravangoda with their six precious babies