Indira Cancer Trust and Ramani Fernando Salons re-launch the Hair Donation Programme in Sri Lanka "After 5 Years" &  Launch of the Sonduru Diriyawanthi Theme song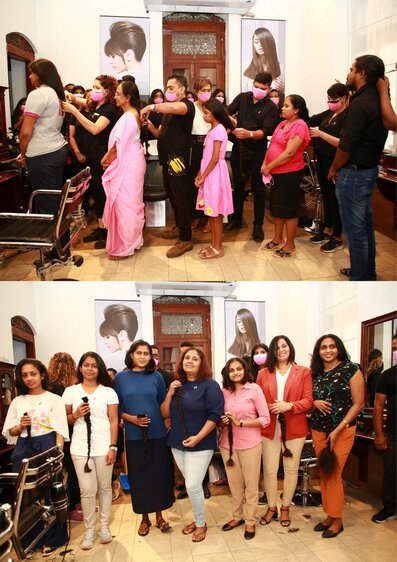 Indira Cancer Trust has once again teamed up with Ramani Fernando Salons to re-launch the much awaited Hair Donation programme in Sri Lanka on 20 July 2022, exactly 5 years after it was first launched on the 20 July 2017. To date there have been 121,267 persons donating their hair which enabled us to produce 3000+ wigs which have been distributed free of charge to Cancer patients around the Country who have lost their hair following chemotherapy.
Anyone who has at least 15 inches of hair in length (if layered, the shortest layer should be 15 inches) can contact any of the 12 Ramani Fernando Salons in Sri Lanka, make an appointment and donate their hair. In addition, cut hair that fits the specifications provided can also be posted directly to Indira Cancer Trust. All donated hair within the specified guidelines will receive a certificate of appreciation on the day at the Ramani Fernando Salon or posted to them. The cut hair has to be clean, free of oil, hairspray, gel, mousse or any other material; all types of hair are accepted including hair that is coloured, straightened, permed or even grey hair. All the cut hair from the Salons are collected by Indira Cancer Trust for production of wigs for patients with cancer.
Indira Cancer Trust was set up by former speaker of Parliament Hon Karu Jayasuriya after the loss of his daughter Indira Jayasuriya from Breast Cancer in 2016. The hair and wig donation programme is one of the 20 programmes conducted by the trust to support patients and families with cancer. Ramani Fernando Salons is one of the foremost chain of Hair and Beauty salons in Sri Lanka and the partnership between Indira Cancer Trust and the Ramani Fernando Salons have created a unique programme of hair donations which is the first continuous hair donation program in the world.
Although the wig donation to patients with cancer has occurred since commencing the Hair Donation programme in 2017, the launch of "Sonduru Diriyawanthi" – a National Campaign in October 2021 enabled the wig donation to be established in 10 leading hospitals treating patients with cancer throughout the country. Sonduru Diriyawanthi was set up by Kumarika of Hemas Consumer Brands together with Lions Clubs of Aluthgama Bentota and Galkissa of District 306A1, and together with the coordination and support of the Ministry of Health and the Sri Lanka College of Oncologists. At the hair donation re-launch a song composed for " Sonduru Diriyawanthi " was launched With the support of popular singers Sohan and Corrine,
At the re-launch of the hair donation campaign, Hemas Consumer Brands gave their employees the opportunity to take part in this worthy initiative. Volunteers from all Sub Business Units across Hemas Holdings volunteered to donate their hair.
The process of wig making from the donated hair was initially done by hand which was a timely and a costly affair and now they are stitched using machines and are continuously being upgraded to cater to the production requirement of 600 wigs a month.
Re-starting the Hair Donation programme is a milestone again for Indira Cancer Trust as well as Ramani Fernando Salons and we have ensured that donated hair is used effectively to produce a natural hair wig for patients who have lost their hair following chemotherapy. The Hair Donation campaign is an ongoing programme. Anyone interested in donating hair, in sponsoring a wig or in need of a wig, can connect to the Indira Cancer Trust FB, Instagram or website or call the Helpline on 0112363211 for more information.
END
Photo Caption
Attendees from Indra Cancer Trust and Hemas Holdings at the relaunch event, donating hair.