Visa announces launch of 'Visa Fintech Initiative: Sri Lanka'
Program to empower fintechs in the country with expertise and payment technology from Visa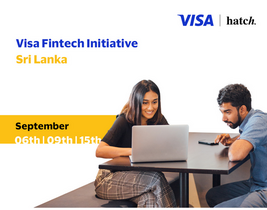 Visa, the global leader in digital payments, has announced Visa Fintech Initiative: Sri Lanka (VFI) to drive fintech innovation in the island nation. As the country prepares to tide over difficult times, the Visa Fintech Initiative: Sri Lanka program, in partnership with Hatch, aims to empower local fintechs to build payment solutions that solve digital payment challenges and drive adoption of digital services.
Avanthi Colombage, Country Manager, Sri Lanka and Maldives, Visa said, "We are happy to announce the Visa Fintech Initiative in Sri Lanka to empower fintechs with our best-in-class capabilities that can enhance their product propositions. As more people resort to digital payments, it is imperative that we make their experiences simple, seamless and convenient.
With this initiative, fintechs in Sri Lanka can utilize Visa's expertise to build better products and more intuitive user experiences. Visa can become the preferred partner for many as they leverage our global depth and breadth of expertise. We look forward to partnering with fintechs and creating innovative solutions for the Sri Lanka's payment ecosystem."
Visa Fintech Initiative: Sri Lanka, is the third edition in South Asia, after a successful run in India and Bangladesh. Composed through a series of virtual events or webinars hosted by Visa and Hatch, the Visa Fintech Initiative will begin on 6th September and go on through the month. Set to happen on 6th, 9th and 15th September, each webinar will focus on a vital aspect of digital payments and familiarise fintechs with Visa's suite of products and solutions that they can build upon. Each service supplements quality and value through modules on Visa's ecommerce solutions, "Buy Now Pay Later" (BNPL), Push Payments through Visa Direct, Global Innovation Tour and Value Added Services. The program is also aimed at supporting local fintech startups by leveraging Visa's technology, subject matter experts and expertise.
Visa has worked with numerous fintechs across the world – from digital banks, wallets and cross-border payment services to incubators to fintech enablers – empowering them to launch card programs, certify their payment solution, find the right partners and build on Visa APIs to create disruptive solutions. From this initiative, fintechs can expect several benefits, including access to:
Visa Fintech Fast Track Program – it helps growth-stage fintechs by reducing expenses associated with Visa membership, faster onboarding, and providing them with dedicated support and expertise
Visa Ready certification program – to enable startups to launch payment solutions that meet Visa's global standards
Visa Development Platform APIs – as well as Visa's Developer Sandbox, providing a chance to experiment and create new payment solutions.
It will also enable access for local fintechs to industry-specific engagements and partner networks.
Sri Lanka's fintechs can also receive technical assistance and access to workshops by Visa subject matter experts, to develop technical skills and design thinking, based on best practices from around the world. Other benefits include exploring commercial opportunities on a case-to-case basis, GTM (go to market) support when launching products and solutions built in collaboration with Visa, and preferential access to Visa partners for banking, enablement, program management, transaction processing, etc.
For more information, visit- https://www.visa.com.lk/partner-with-us/info-for-partners/visa-fintech-initiative-sri-lanka.html. To register for the program, go to- https://www.visa.com.lk/campaign/VisaFintechInitiativeSriLanka2022/