Empowering Customers Towards Seamless Self-Care Service SLT-MOBITEL Upgrades MySLT App
SLT-MOBITEL, the National ICT Solutions Provider has launched an upgraded MySLT App as a single and united platform, empowering customers to handle a wide range of services effortlessly improving their experience.
With the developing digital landscape and growth in customer expectations, SLT-MOBITEL understands the growing significance of offering seamless self-care service. In this situation, the MySLT App provides customers with self-service capabilities to handle their accounts, and connect with Customer Care, bringing a range of services together in a non-intrusive and simple way of handling their accounts effortlessly.
Customers can download the new upgraded MySLT App from the App Store or Play Store and enjoy the powerful, yet easy-to-use, self-care application promised to improve customer satisfaction. Increasing convenience, customers can also sign in to the MySLT App through Facebook and Gmail accounts.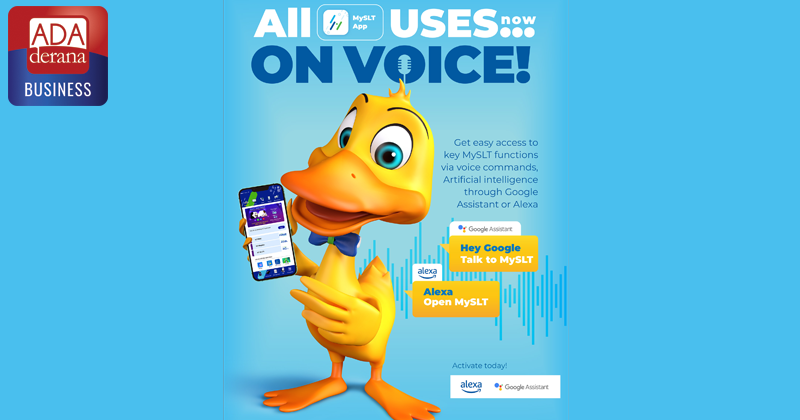 As part of SLT-MOBITEL's digital initiative, the upgraded MySLT App and portal will now minister features and services for SLT-Mobitel Home Broadband, PEOTV, Voice and Mobile customers to access their accounts anytime and anywhere.
Customers can now access a entire range of functionalities including handling their connection, adding new data, managing faults, processing bill payments, requesting earlier three months bills to a registered email, enhancing existing SLT-Mobitel Home Broadband package and getting information on new features, allowing required digital services, initiating new data add-ons, buying devices through SLT-MOBITEL e-teleshop, acquiring Mobile selfcare, obtaining promotional notifications, assistance and much more.
Making life simpler, MySLT App can be merged with smart devices like Amazon, Alexa and Google Assistant allowing customers' access to a range of MySLT services with just a easy voice command.
Established on a customer-centric strategy, with MySLT App subscribers are guaranteed of obtaining more personalized and quicker query resolution resulting in better flexibility to address their constantly changing usage and service requirements.