Baby Cheramy strengthens inclusive parenting knowledge through informative parental clinics across Kalutara District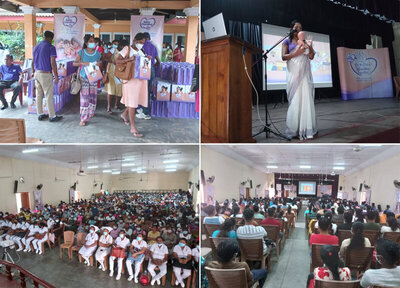 Baby Cheramy, the leading and most loved baby care brand in Sri Lanka, successfully completed its parental clinic program series in Kalutara recently, covering Bandaragama, Panadura, Bulathsinhala, Ingiriya, Horana, Wadduwa, Mathugama & Agalawatta. The Parental Clinics educate parents on Baby Care, Early Childcare Development and Inclusive Parenting, providing valuable knowledge for parents to be empowered with the right knowledge and attitude to be successful parents and enjoy shared parenting. Through these parental clinics, Baby Cheramy educated both parents, especially fathers, on how they should be involved and supportive when the baby is born and also how they can be engaged in early childhood development in order to improve the child's physical and mental wellbeing.
The Kalutara Parental Clinic was addressed by an expert resource panel with experienced professionals in Maternal and Baby care. Maternal and Child Healthcare consultant, Shyamalee Pathirage, addressed the audience on Baby care and Nutrition and Inclusive Parenting. A musical therapy session was arranged by Jagath Watawala (former Music Director at Sri Lanka Broadcasting Corporation) and Swarna Watawala (Aesthetics Teaching Instructor at Elpitiya Zonal Education Office). Further, the audience was addressed by. Madushani Amarasooriya, the Early Childhood Development Officer of the Divisional Secretariat, Bandaragama, on improvements at each stage in early childhood.
At the end of the parental clinic, mothers were gifted with a valuable Baby Cheramy gift pack and an Early childhood development and inclusive parenting guidance booklet approved by the Ministry of Women and Child Affairs. The programme was conducted in collaboration with Ministry of Women and Child Affairs, with approval from the Ministry of Health (MoH). Doctors from MoH also addressed parents in some sessions. Feedback was also collected from participants through feedback forms.
Baby Cheramy aims to conduct 30 'Daru Patiyata Surakshitha Lowak' parental clinics across the island in the Western, Southern and Eastern provinces to spread awareness on inclusive parenting for both mothers and fathers. Baby Cheramy will continue to educate and conduct programs as it celebrates its 60th anniversary of winning the trust of Sri Lankan mothers and becoming the most loved baby care brand in Sri Lanka.
For more details on Baby Cheramy's products and inclusive parenting, you can visit their website at www.babycheramy.lk or visit their Facebook page at https://www.facebook.com/BabyCheramy/.
END