"Swadeshi Khomba Praja Sathkaraya" at Divisional Hospital, Alawwa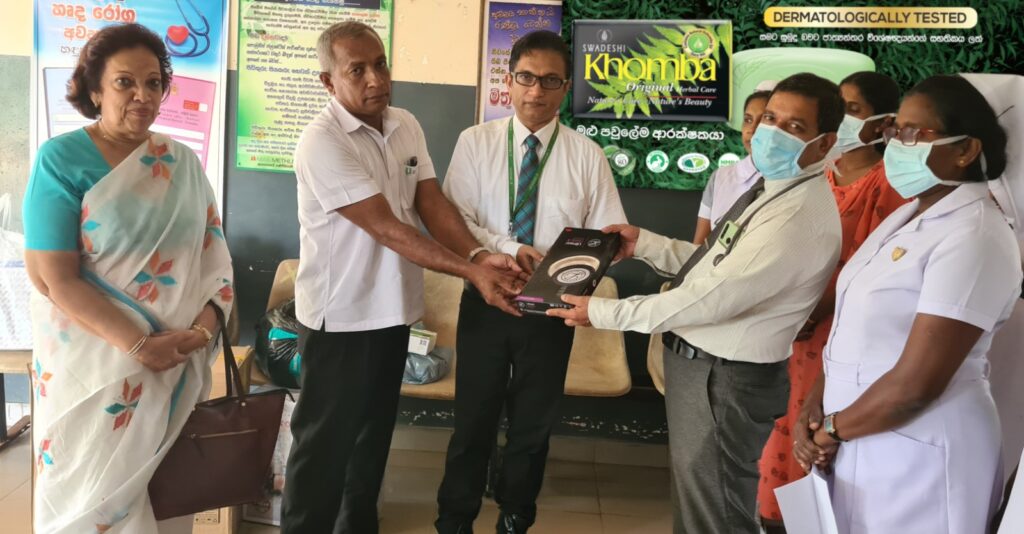 Swadeshi Khomba continues to make a positive impact in the healthcare sector by donating essential medical equipment to Divisional Hospital Alawwa. This generous donation is aimed at strengthening the healthcare system in the area and providing better care for patients.
Swadeshi Khomba has always been committed to supporting local communities and making a positive impact in Sri Lanka. This donation was carried out under the theme, "Swadeshi Khomba Praja Sathkaraya". This is another activity of the series of social responsibility projects carried out by Swadeshi.
Ms. Amari Wijewardene, Chairperson of Swadeshi said that as a Sri Lankan owned company,
we consider it a social responsibility to contribute to our communities to better their access to good health care.
As a 100% local company Swadeshi continues its nation building and community CSR projects for our Sri Lankan communities. The Swadeshi Khomba brand is dedicated to carrying out sustainability projects which focus on caring for Mother Nature and enhancing cultural values. Company's many community outreach initiatives include, Island wide annual lighting ceremony of temples "Swadeshi Khomba Aloka Puja Sathkaraya", "Swadeshi Khomba Mihithala Sathkaraya" Kohomba tree planting campaigns, Donation of water tanks for the communities, schools and temples in dry zone of Sri Lanka and Swadeshi Khomba Baby care gifts to pregnant mothers.
"As the country's leading herbal personal care products company, we would like consumers to learn more about the functional benefits of the herbal ingredients used by Swadeshi in all its products, we use only the best of Sri Lankan herbs, and all ingredients are extensively researched, and the products fully tested to ensure quality and all our products are 100% Vegetarian, Not tested on animals and Cruelty free. Swadeshi products including Swadeshi Khomba, Rani Sandalwood and Swadeshi Khomba Baby are accredited by the Vegetarian Society, UK." This stands testament to the company's forward-thinking practices, as well as our desire to help consumers make ethical and eco-friendly choices. The company has always considered the health and environmental impact of its products, and continues to prioritize it. Swadeshi, a truly Sri Lankan company has claimed many industry firsts to its name during past 80 years.
The pioneer and market leader in the herbal personal care category in Sri Lanka, The Swadeshi Industrial Works PLC, was incorporated in 1941. Among the brands of Swadeshi are Swadeshi Khomba, Rani Sandalwood, Swadeshi Khomba Baby, Perlwite, Lak Bar, Safeplus, Black Eagle Perfume, Khomba Hand Wash, Khomba Body Wash and Rani Shower Cream range.
The company manufactures and markets the No. 01 herbal brand in Sri Lanka "Khomba Herbal" and heritage beauty brand Rani Sandalwood.
All Swadeshi products are registered under National Medicines Regulatory Authority (NMRA), of Health Ministry of Sri Lanka. All fragrances used in Swadeshi products are certified by globally accepted International Fragrance Association (IFRA) and produced under ISO 9001 – 2015 standards.
Photo Caption –
Swadeshi Chairperson Ms Amari Wijewardena, District Medical Officer of the Hospital
Dr. Nilantha Premarathne, and officials from Swadeshi participated during the handing over event.