Pelwatte launches alluring new ice cream flavours; Faluda and Ginger Biscuit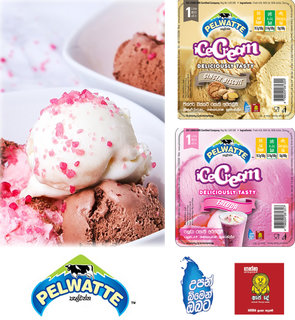 The local diary giant Pelwatte introduced two brand new flavours to their ice cream palette. The unique Faluda and Ginger Biscuit flavours will allure more ice cream enthusiasts to go beyond the traditional flavours and enjoy the signature smooth, creamy texture of the Pelwatte ice creams.
"The Sri Lankan ice cream context is diversified with many ice cream variants in terms of colour and flavour. Pelwatte's ice creams are popular for its distinct flavour compositions and memorable taste. The newly introduced Faluda and Ginger Biscuit ice cream flavours also follow this premise. The secret of the rich taste is that the production of the ice creams are done with the fresh dairy fat which are supplied by our dairy farmers. Therefore, the ice cream that are produced at Pelwatte have a rich creamy texture that makes one want more," denoted Akmal Wickramanayake, Managing Director, Pelwatte Dairy Industries, speaking about their ice cream production range and the launch of the new flavours.
The Faluda ice cream contains a sweet, refreshing, smooth, cool Faluda Ice taste and it is proven to contain most preferable sensory attributes by sensory evaluations in PDIL. The Ginger Biscuit ice cream is rich in sweet, creamy and Ginger flavour and introduce new experience to the consumer comprised with most superior sensory properties.
The Faluda and Ginger Biscuit ice cream are produced with compliance to SLS standards. The Ice cream consists of 32% Total solids, percent by mass min, 8% Fat percent by mass min, 16% Sucrose percent by mass max, 8% Milk solids non fat percent by mass min.
Pelwatte has a broad ice cream profile and has introduced two whole new ranges, under premium range and the economy range. The premium range to be included new flavours such as; cream cheese sour cherry ice cream, Peanut butter caramel choco chips and nuts ice cream, Date ice cream, Ferrero Rocher ice cream, Cheese cake strawberry ice cream, Mint with chocolate chips ice cream, Amarilla ice cream, Snickers ice cream.
The existing Pelwatte Ice Cream range are Vanilla, Chocolate, Fruit & Nut, Banana, Mango, Strawberry, Coconut with Cardamom Ice cream, Coffee with Cardamom, Blueberry and Butterscotch.
Photo Caption: Pelwatte's New Ice Cream ranges
About Pelwatte
Pelwatte Dairy Industries Ltd is a fast growing organization engaged in the manufacture and distribution of superior quality dairy products country-wide. Many growth areas have been identified and the Company is moving at a rapid pace to emerge as a force to reckon within the industry. Pelwatte Dairy Industries is engaged in producing milk products of international quality and the flagship Pelwatte brand enjoys the complete confidence of customers who have been our source of strength and motivation.