Huawei Service Annual Giving Season kicks off with mega discounts plus free gifts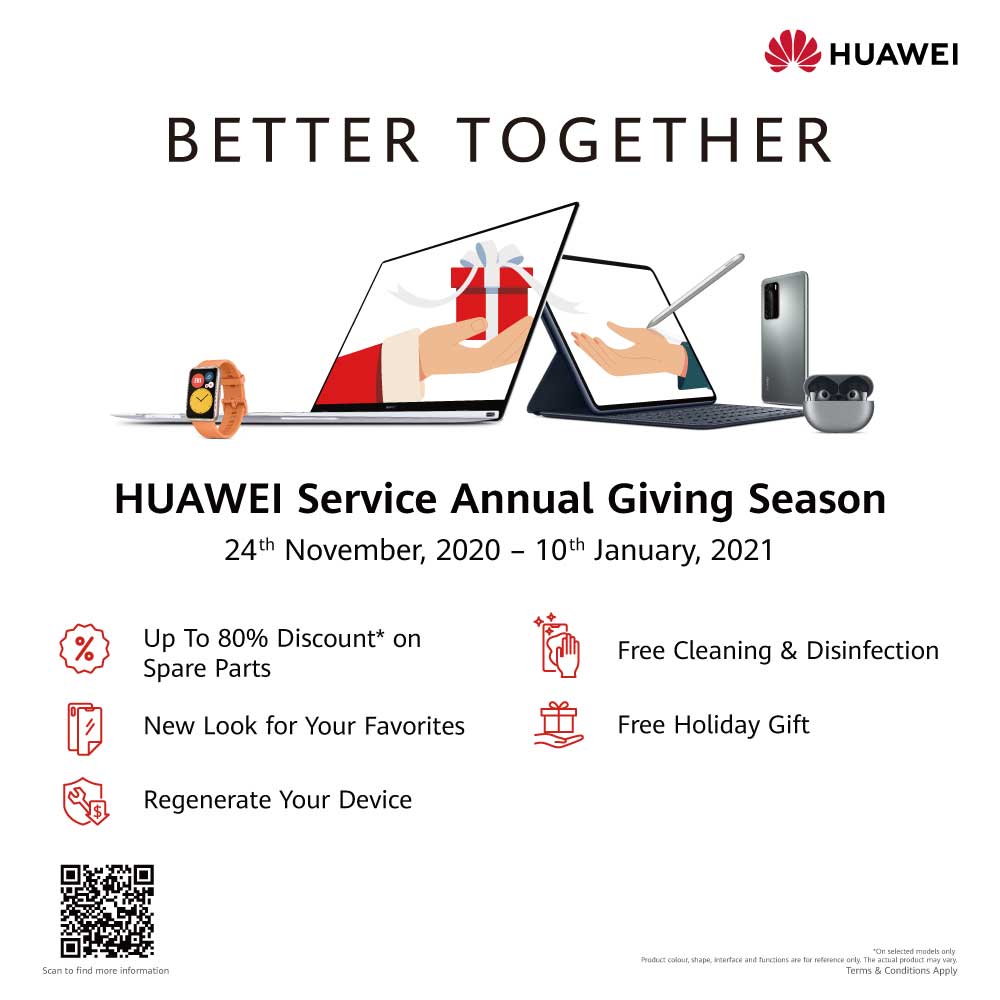 Huawei, the global smartphone brand always empowers its customers with best service offerings. The island-wide Huawei Service Centers are just one testament to its high quality customer focus. Another mark of service excellence is the way Huawei welcomes the Christmas and New Year season and felicitates its customers.
Huawei's celebration of the Season, the Huawei Service Annual Giving Season, has begun and is in full force, till January 10! Commenced on 24th November and running till 10th January 2021, Huawei Service Annual Giving Season is showering its loyal customers with seasonal bonanzas, gifts and unbelievable discounts on device spare parts and repairs.
The Huawei Service Annual Giving Season comes during the 'gifts and happiness' time of the year. The arrival of Christmas marks the sharing of gifts and goodwill. Huawei service centers are packed with free, exciting gifts ready to be given away for all the walk-in customers during this season.
The walk-in customers to any of the Colombo, Maharagama, Kandy, Anuradhapura, Galle and Jaffna Huawei service centers will also be eligible for discounts up to 50% on selected device spare parts, low cost device repairs, free cleansing, device disinfection and many more services.
With Huawei Service Annual Giving Season, Huawei customers can celebrate the new year with a new look device while also receiving discounts up to 50% on selected device spare parts. The customers can obtain a new, frosted screen protector which is anti-fingerprint, anti-greasy dirt, highly durable and skid resistant for a discounted price of Rs. 200. Huawei Service centers have also introduced a new and stylish back cover protector for those who take extra care of their devices, which is available for a discounted price of Rs. 150. The customers who take their Huawei devices for repairs are also entitled to a free cleansing and disinfection service. This cleansing and disinfection service is available for all Huawei smartphones, Tablets, Laptops, Smart Watches, Bands and Free Buds.
Huawei is committed to maintain a high level of service excellence in all its offerings and to ensure that customers' needs are fulfilled. As a result, Huawei Service Centers are constantly monitored by Huawei and all the device repairs are carried out by well trained and experienced Huawei technicians. Commenting on the Huawei Annual Giving Season which is already underway, Country Head of Huawei Devices, Sri Lanka, Peter Liu said: "We have launched this annual give-away to Huawei users for them to taste the feeling of freshness of the new year season. Also Huawei users with their older devices have stayed with us trusting the brand. Therefore it's time to show our gratitude to them. Huawei Annual Giving Season is a wonderful opportunity for users with older devices to get them repaired, refreshed at very low prices."
For devices needing repairs, such as screen replacement, battery replacement, and main board replacement, special discounted rates are on offer at Huawei Annual Giving Season.
Huawei MediaPad T2-7 device holders are in for a rare treat to get the device screen replaced along with a new back cover, both for just Rs. 3699. Now Huawei users can give a new lease of life to their older devices with an original battery replacement for discounted prices. Huawei device users of GR3 2017, GR5 2017, T2 7, Y3 2, Y3 2017, Y5 2017, Y6 2, Y6 2019, Y6 Pro 2018 and Y7 can avail battery replacement for a prices as low as Rs. 1899 while Huawei devices including Nova 2i, Nova 3, Nova 3i, P10, P10 Plus, P30 lite, P9, T3 10, Y7 2019, Y9 2018, and Y9 2019 can avail this exciting offer for only Rs. 2599. Huawei has covered all the bases in terms of essential service offerings. Not only users can get their device batteries replaced, but also they can get the main board replacements for special discounts. The main board replacement cost of Y3 2017 – 3G model is Rs. 3842 and its 4G model is Rs. 4399. For Y5 2017, it costs only Rs. 4399, Y7 2016 – Rs. 4999, Y7 Pro 2018 – Rs. 4399 and Y9 2018 – Rs. 5599.
The older devices which require screen replacements can be taken to a nearest service center and serviced with new screens at unbelievable prices. The screen replacement cost of Huawei Y3 2017 (Gold) and Y5 2017 (Black) and Y6 2018 (Black/White) is Rs. 2999 while the cost for Nova 2i (White) is Rs. 3499 and Nova 3i (Pearl White/Iris Purple) is Rs. 4999. In the MediaPad series, screen replacement for MediaPad T2 7 costs only Rs. 2999, MediaPad T1 10 – Rs. 2999 and MediaPad M3 Lite – Rs. 3999.
While the service centers busily offer these major repair services at special rates at Huawei Service Annual Giving Season, users can also avail of attractive tweaks to their devices–such as changing the back cover color for a nominal price. Selected models such as Huawei Y6 Pro's Midnight black back cover and Amber Brown color are available for Rs. 1699 while MediaPad T2 7's Champagne color back cover is available for Rs. 1699.