Mercedes-Benz AG recognizes DIMO for Service Excellence in South East Asia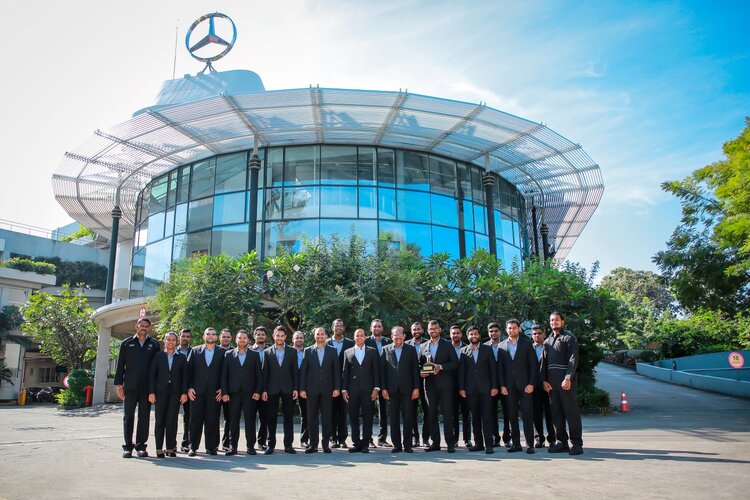 Mercedes-Benz AG awarded DIMO the 'Mercedes-Benz Service Excellence Award 2019' in the Region South East Asia II, for attaining the best Customer Satisfaction Index (CSI) and Net Promoter Score (NPS), at the recently held South East Asia II Service Excellence Regional Virtual Award Ceremony. DIMO reaffirmed its commitment towards exceptional after sales experience for its customers by bagging this prestigious award outshining Philippines and Brunei, the other General Distributor countries in the region.
This year's Mercedes-Benz South East Asia II Service Excellence Awards also recognized the Best Service Advisers of Mercedes-Benz AG Authorised Service Centres with an objective to develop competencies among Service Advisers. Three long-standing employees of DIMO's Mercedes-Benz Service Facility, Hirun Koralalage, Shelton Wijerathne and Sahinda Wasalathanthrige, were recognized as 'Top Service Advisers of the Year' in the region at the virtual award ceremony.
Mercedes-Benz AG carries out annual customer surveys in respective countries targeting its distributors and dealerships to push harder at enhancing their quality of after care services and customer engagement. These customer surveys have been specifically created to focus on different aspects of the customer's experience. It all starts with the ability of the customer to conveniently schedule a service appointment with the Mercedes-Benz AG Authorised Service Centre. Subsequently, attributes such as the quality of service work performed by the Service Centre, the adherence to international standards by the service facility, the technical expertise and customer care standards demonstrated by the team members, and the safe and timely delivery of the vehicle back to the customer are all thoroughly evaluated by Mercedes-Benz AG in these customer surveys. DIMO's attention to detail in every facet of their service delivery has helped them make a strong connection with their customers and it has been reflected in these independent customer surveys.
DIMO Chairman & Managing Director Ranjith Pandithage stated, "These regional awards further reiterate that DIMO is the only place you can trust for beloved Mercedes-Benz vehicles and demonstrates our unwavering commitment towards delighting customers, keeping in line with the company's values. These accomplishments also manifest our capabilities of bringing best-engineered marques to Sri Lanka. The introduction of the Service Bookings & Online Payments for Mercedes-Benz Customers via the DeX Automotive App and Dedicated Service Advisor concept are our latest initiatives to enhance customer experience for our valued customers. At DIMO, we always strive to equip our staff with Mercedes-Benz AG global training to enable them to create an exceptional customer journey from start to finish."
As the only authorised Mercedes-Benz AG Service Centre in Sri Lanka, DIMO has invested heavily in their state-of-the-art Mercedes-Benz facility known as DIMO 800, The Mercedes-Benz Centre of Excellence. It is equipped with Mercedes-Benz AG recommended special tools and equipment, software updates, repair guidelines and processes, Mercedes-Benz Service 24h island-wide Roadside Assistance, computerised vehicle maintenance records and many other services, all of which have been deployed with the aim of ensuring that the safety of the vehicle is guaranteed every step of the way.
The usage of Mercedes-Benz genuine parts provides peace of mind for the Mercedes-Benz owners while ensuring safety and performance of the vehicle, an exceptional quality and outstanding price / performance ratio with an extended mileage. DIMO's Mercedes-Benz Service Facility only uses Mercedes-Benz genuine parts for all repairs and services hence guaranteeing the best resale value for the customers. Moreover, DIMO is the only authorised agent for Mercedes-Benz in Sri Lanka to facilitate the Mercedes-Benz AG Global Manufacturer Warranty for Mercedes-Benz vehicles in the country.
Proper care and handling are of utmost importance for a Mercedes-Benz vehicle and that is why DIMO ensures that only the Mercedes-Benz AG trained technicians / certified members handle and service each and every Mercedes-Benz vehicle. DIMO understands the importance of its well-trained Mercedes-Benz AG certified technicians, hence invests extensively in its human capital to ensure that their customers get the best experience. These training facilities range from regular online training to manufacturer and in-house training via DIMO's Mercedes-Benz Certified Trainers. DIMO appoints a Dedicated Service Adviser to stay in close contact with the customer at all times and provide regular updates throughout the journey of the customer's Mercedes-Benz repair or service. It plays a key role in building and strengthening the trust and relationship between the customer and DIMO. The genuine care, expert workmanship of Mercedes-Benz AG-trained Technicians and the international standards made DIMO the preferred choice for its valued customers.
Mercedes-Benz service facility of DIMO was recently recognized as the 'Only Mercedes-Benz AG Certified General Distributor' Workshop for Body & Paint Repairs in South East Asia, as well. DIMO is the first General Distributor in South East Asia to receive this certification. DIMO 800 is the only Mercedes-Benz Service facility in Sri Lanka equipped with the latest technology and technical experts to cater to all Mercedes-Benz vehicles according to Mercedes-Benz AG international standards.
ENDS
Photo Caption:
Mercedes – Benz Service team of DIMO