E-City launches the first ever Dell Concept Store in Sri Lanka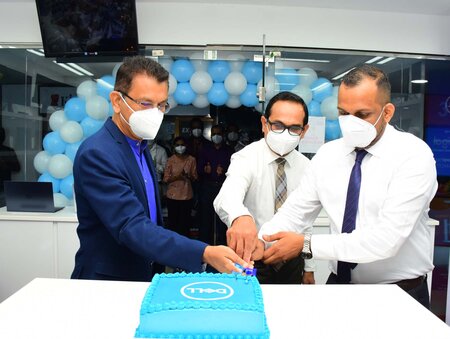 E-City, a leading tech solutions provider recently launched the first-ever Dell Concept Store at Unity Plaza, Bambalapitiya, showcasing Dell's total consumer product range. E-City partnered with Dell Technologies, a global leader in computer technology to launch this exclusive showroom for Dell consumer products.
Established as a dedicated showroom to provide a refined experience, the new concept store with a space of 350sq.ft enables the customers to explore Dell's range of consumer products, avail a true self-shopping experience, compare product prices and choose their dream products from a grand variety.
Dell Technologies is at the forefront of technology and is a global market leader for PCs/laptops and computer accessories. Dell Technologies pioneers digital transformation around the world and an exclusive Dell concept store unfolds Dell's latest tech solutions including PCs, Laptops and other computer accessories to every Sri Lankan.
Commenting during the launch, Chairman of E-City, Wasantha Dinuwan said "E-City is a one stop shop to get hands on experience on the best range of Dell products. Ever since we started operations back in 2013, we built a strong relationship with Dell, fulfilling the technology needs of our customers island wide. Our team at the Dell concept store is committed to provide the best possible customer service and make the customer's visit a truly memorable one."
Country Manager – Dell Technologies, Sri Lanka and Maldives, Chrishan Fernando stated, "Dell brand is closer to the hearts of many Sri Lankans as we have been operating within the Sri Lankan market for a longer period. We are delighted to partner with E-City to launch the first-ever Dell concept store in Sri Lanka. This concept store will bestow a new experience to our customers and ensure that all their repair and aftersales service needs are fulfilled with great care."
This fully fledged showroom is located in a high-end commercial destination in the heart of Colombo offering convenient access for the customers. E-City team is well versed in the entire Dell consumer product range to help the customers choose the products that best suit them. A familiar scenario to any walk-in customer at first sight is the unmissable customer service. From welcoming the customer to helping during product browsing, expert advice, E-City team provides a highly efficient and faster service to ensure that every customer is fully satisfied.
Sharing his thoughts on the new concept store, Head of Distribution, Client and Enterprise – Dell Technologies, Sri Lanka and Maldives, Aabid Aslam said, "Our aim is to strengthen customer experience through one on one brand engagement by building awareness on Dell products and benefits. The new concept store was launched to achieve this objective and it will indeed serve as a multi-purpose store offering superior services."
E-City is renowned for its superior aftersales services. The newly opened Dell Concept Store will cater to all the repair needs of Dell consumers with full transparency and care.
Established in 2013, E-City has evolved to be a market leader in technology solutions. Apart from the new Dell Concept Store, E-City has several showrooms which spans across the island and a strong dealer network which supports its operations. E-City plans to set up more concept stores around the island and increase its level of assistance to the customers.
Photo Caption
From left to right – Country Manager Dell Technologies, Sri Lanka and Maldives, Chrishan Fernando, Director Operations, Singer Sri Lanka PLC, Jagath Perera and Chairman of E-City, Wasantha Dinuwan at the Dell Concept store opening ceremony