Macktiles promises High Quality Sri Lankan Tiles at reasonable prices to Consumers
Photo Captions-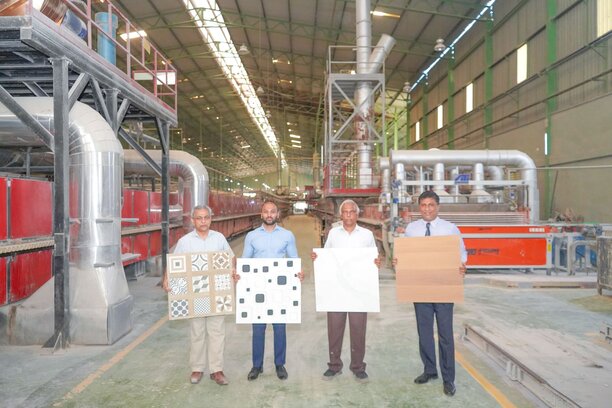 Macktiles, the youngest player in the Sri Lankan tile industry, has taken the initiative to expand further by establishing manufacturing facilities to cater to the local demand. This initiates an industrial expansion drive in keeping with the Government's initiative to develop Sri Lankan industries. The Company has invested in a state-of-the-Art plant from the Italian manufacturing giant of the world's No 1 tile manufacturing supplier, SACMI and systems.
"Once our new plant is installed, we will be able to supply state of the art highest quality porcelain and ceramic tiles of International quality. Our tiles will be an equivalent to designer tiles that were imported from Italy and Spain in the past", said Head of the manufacturing plant Ranjith Munamalpe who is a veteran Sri Lankan, tiles technologist with extensive working experience in Indonesia, Malaysia, Vietnam and China. Given the right environment to develop the Sri Lankan tile industry, I am very happy to be a part of developing the local tile industry. "Moreover, we are honored to be a part of His Excellency President Gotabaya Rajapaksa's Saubhagyaye Dekma initiative amply endorsed by Hon. Prime Minister Mahinda Rajapaksa and Hon. Basil Rajapaksha, Chairman, Presidential Task Forces Economical Revival & Poverty Alleviation, who are the backbones of the initiative."
Thajitha Perera, General Manager of Macktiles says, "The encouragement we receive from Hon. Minister Wimal Weerawansa, Minister of Industries and the support by the Ministry of Industries, the Secretary, Directors and other Officers of the Ministry of Industries is a motivation for industrialists like us to achieve self-sufficiency of manufacturing tiles in our country."
"The Macktiles philosophy is to ensure that we cater to the demand of fellow Sri Lankans in all walks of life and to manufacture high quality tiles to fit their budget. At the moment there is a scarcity of tiles in the local market and we are working on our highest capacity to increase our production capacity. We would also like to inform our valued customers that regardless of the situation, we have not increased our prices to LKR 1500 – 2000 for a 2×2 tile but we will maintain a starting price of Rs 695/- inclusive of VAT from our showrooms island wide. With the growth in volume, in the near future due to our expansion we hope to introduce lesser tile rates to the market" said Niroshan Pananwala, General Manager – Sales & Marketing of Macktiles.
"We are also aware that there are many new ventures arising and underway by Sri Lankan investors in the tile and sanitary ware sector. It is a welcome move and hopefully in future, Sri Lankan consumers will have a wider choice of tiles and sanitary ware produced locally. In doing so, our country would save more than LKR 20 billion worth foreign exchange outflow due to importing costs. These new ventures will also generate thousands of employment opportunities directly and indirectly to fellow Sri Lankans" said Chief Operating Officer Ahmed Shafee. Furthermore, he also stated that he is very thankful to His Excellency, President for providing such tremendous support towards the industry and for boldly investing billions to upgrade the local industry. Although in the short term we expect a few strains to customers, in the long term, it will give them a greater benefit and satisfaction. This will also amplify the benefits towards our country as we embark into this Industrial revelation mooted by the timely implementation of Saubhagyaye Dekma Development Drive.
Macktiles, is for Sri Lankans from Sri Lankans. Our approach is to achieve the objective of reaching self-sufficiency of local production by investing and spearheading this drive so that all stake holders in this industry are benefited. This includes the importers of tiles who were supplying exclusive varieties of tiles and we hope to fulfil these demands by matching their quality and design parameters.
Under their OEM Brands which eventually will make a win-win platform for stakeholders of the Industry and together with other existing tile manufacturers in Sri Lanka, we look forward to a journey of fueling the local tile industry.