Engaged, Agile and an Innovative Tribe: DIMO celebrates 8 consecutive years as a "Great Place to Work"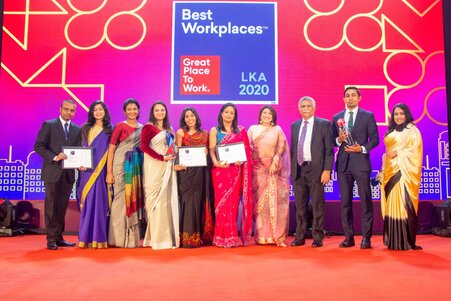 DIMO, one of Sri Lanka's leading conglomerates, was recognized as one of the Great Places To Work (GPTW) in Sri Lanka, for the eighth consecutive year at the GPTW awards ceremony held recently at the Hilton Colombo.
Similar to previous years, DIMO was able to win multiple awards and took home four awards including the "Best Workplaces in Sri Lanka 2020" and "Excellence in People Initiatives – Inspiring" awards, together with Gold Awards for "Best PLC to work for in Sri Lanka 2020" and "Best Workplace in Extra Large Enterprise Category in Sri Lanka 2020".
The latest haul of Great Place To Work awards are more than yet another set of achievements for DIMO as it is a clear indication that the company's long-term objective of creating a culture that supports its overall strategy is bearing fruit. Over the past 10 years, DIMO has taken significant strides in transforming the organizational culture to support the achievement of its business strategies while also maintaining the trust and loyalty of team members at all levels. The company has fostered a culture that has brought about key components of a great workplace such as transparent communication, effective leadership, commitment, respect, recognition and camaraderie. For DIMO, GPTW is not about having fancy people practices. It is about directing, supporting, motivating and recognizing high-performing individuals in order to achieve corporate goals through an engaged and aligned workforce.
Although DIMO commenced operations over 80 years ago in the field of automobiles, during its long journey of continued success, it has expanded to stand out as a leading conglomerate that meets the varied requirements of individuals and organisations in the fields of engineering, consumer goods, education, agriculture and industrial solutions. During this time, the company has understood that building a vibrant workplace goes beyond simply meeting the basic needs of its people and has gone above and beyond by constantly aiming to build a culture which creates, encourages and rewards consistently high-performing individuals. The company views a 'thriving workforce' as one in which employees are not simply productive but are also actively engaged in creating a brighter future for both the company and themselves. During the company's ambitious diversification efforts spanning several decades, it has also rapidly magnified people's strengths via upskilling and cross skilling initiatives. The tribe themselves have come to realize that the organization has the inherent strength to curtail the negative impact of any external forces such as an economic downturn or a global pandemic, without compromising on its workforce. As a result, in GPTW culture audits, DIMO was constantly on top by achieving the highest score in the area of 'Developing' for the past 4 consecutive years. The company always goes all out to keep a transparent communication channel with all tribe members as it is very important that they have a clear understanding of the bigger picture and each tribe member at every level is mindful of the way in which they contribute to the overall goal of the organization.
Sharing his views, Chairman & Managing Director of DIMO, Ranjith Pandithage stated, "While igniting and driving a high-performing workplace culture, I along with the rest of the leadership team have had bright eyes towards addressing every aspect of our people's lives. We have always fuelled our people to give their best, and we have also ensured that the organization gives back the best for them through exponential growth and exposure, both personally and professionally. We have practiced this in order to stay true to our EVP: Making Work Enjoyable & Rewarding and to truly differentiate DIMO's Employer Brand. Therefore, to be continuously recognized for 8 years in a row for our conscious efforts is certainly an affirmation to the success of the DIMO Tribe and the guidance we have given them over the years. With every crown we keep collecting year on year, DIMO's way of life just keeps getting better and remains a cut above the rest."
DIMO believes that its transparent communications inspire tribe members to possess high levels of integrity and access to information builds trust and gives them the knowledge they need to make the right move in all situations and take initiative with confidence. As a result, the company has been bestowed with the "Excellence in People Initiatives – Inspiring" award for excellence in people's practice. As a whole, DIMO has aligned its organizational culture to be on par with the overall business strategy to flourish in a rapidly-evolving atmosphere.
Great Place To Work is a pioneer in studying and recognizing best workplaces in over 60 countries around the world. The Great Place To Work model recognizes organizations from two perspectives: team member's perspective and management's perspective using the Trust Index survey and an elaborate Culture Audit. These tools are used to paint a vivid picture of the workplace experience of the people and the practices established by the management to maintain a culture which facilitates positive people experience.