ADVANTIS Projects & Engineering opts for TATA SIGNA 4018.S Prime Movers from DIMO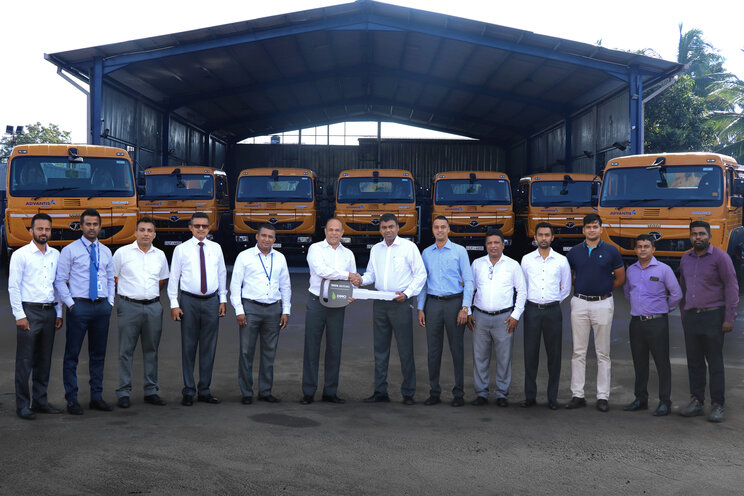 DIMO, one of Sri Lanka's leading conglomerates and the Authorized Distributor for TATA Motors Ltd in Sri Lanka, delivered 7 Units of TATA SIGNA 4018.S Prime Movers to Advantis Projects & Engineering (Pvt.) Ltd., Sedawatte recently.
TATA SIGNA 4018.S Prime Movers delivered to Advantis Projects & Engineering (Pvt.) Ltd offer higher power-to-weight ratio and higher torque at wheels delivering better performance while the clinically-designed driveline with Cummins ISBe 5.9L engine with 3-mode FE switch and G750 gearbox offers greater fuel efficiency. This vehicle comes with a 40 Ton maximum permissible GCW when coupled with a suitable 2-axle trailer and a new range of value enhancers such as a gear shift advisor and tilt & telescopic steering column that provide an excellent trucking experience.
Mr. Shadil Rizan – Director / CEO of Advantis Projects & Engineering stated, "We chose TATA SIGNA 4018.S Prime Movers from DIMO because these vehicles are equipped with better GCW, faster on-road operations with a spacious comfortable driver cabin with AC and offer the lowest operating cost. Most importantly, they come with DIMO's warranty with high resale value and an extensive after sales service network."
At the handing over ceremony, Mr. Vijitha Bandara – Director of DIMO stated, "The world-class TATA SIGNA 4018.S Prime Movers come from TATA Motors, the renowned leader in commercial vehicles manufacturing in India. TATA SIGNA Prime Mover has the highest market share in Sri Lanka having changed and developed the inland logistics operations in Sri Lanka with its advanced technology and minimum operating and maintenance cost. Furthermore, the new design and comfort level allows its drivers to operate with minimum fatigue."
The TATA SIGNA 4018.S Prime Movers from TATA Motors is specially designed to provide momentum in the inland logistics operation sectors. It is important for new development projects to employ the latest and most reliable technology and superior equipment to meet the stringent deadlines. Thus, in order to meet the stiff requirements of this sector, the TATA SIGNA 4018.S Prime Movers come with world-class aggregates such as Cummins Engine with power 179HP, transmissions form 6F, heavy-duty 7T reverse Elliot type front axle and single reduction RA110LD type rear axle, and front semi-elliptical / parabolic leaf spring and multi-leaf spring suspension at rear. Smartly-designed cabin space, improved ergonomics and NVH levels in the SIGNA range offer a superior in-cab experience. The cabin also comes with AC and ventilation options, enabling drivers to operate fatigue-free over long hauls, leading to better productivity and safety.
DIMO offers the entire TATA Commercial Vehicle range in Sri Lanka to suit any mobility demands of local customers backed by DIMO after-sales care. The TATA Commercial Vehicle range includes Small Commercial Trucks (payload below 1 ton), single cabs (to use in family and many business applications), Light Commercial Trucks (deck length vary from 10 feet to 20 feet), Heavy Commercial Trucks, Heavy Commercial Tippers, Prime Movers and Buses (28 to 54 seaters).
Advantis Projects & Engineering (Pvt) Ltd., formerly known as Logiventures, specializes in providing project logistics solutions to Sri Lankan and International contractors who are involved in large-scale infrastructure projects throughout the country and in the region. During the past 16 years Advantis Projects has positioned itself as the market leader and innovator in end-to-end project logistics solutions, specializing in freight & chartering, customs clearance & forwarding (C&F), engineered heavy lift and heavy transport, alternate lifting solutions, erection services, crane rental, domestic distribution, open and covered project cargo storage facilities, and other numerous services related to logistics chains. Moreover, the company has strategically located its facilities near the Port of Colombo and Hambantota Port to offer these services.
"The company consists of a team of dedicated professionals who possess a wealth of experience in the logistics arena and heavy engineering, enabling the company to positively meet a diversified range of demands by providing logical logistics solutions, maximizing customer satisfaction. The company has positioned itself as the inspiration for project logistics by supporting major development projects in diverse areas. Leveraging our refined expertise, we have continued to venture beyond Sri Lanka to perform operations overseas, namely in the Far East and African regions. With the strong support of our global project logistics networks and their capabilities, we are confident in our ability to compete with regional players", Shadil further added.
TATA Motors Ltd and DIMO have a strong relationship spanning more than 60 years, and TATA Commercial Vehicles have played a vital role in the daily lives of many Sri Lankans. TATA Commercial Vehicles are the market leader in most of the categories which it operates in. DIMO – TATA currently operates with more than 22 branches plus more than 350 dealers across the island to offer Tata sales, service and genuine spare parts and to provide its unique 24-hour roadside assistance service to TATA customers.
Photo Caption The TATA SIGNA 4018.S Prime Movers were handed over by Vijitha Bandara (Director – DIMO) to Janitha Jayanetti (GMC/Director – Advantis Projects & Engineering (Pvt.) Ltd.) and Shadil Rizan (Director/CEO – Advantis Projects & Engineering (Pvt.) Ltd.), Chinthaka Athapaththu (DGM – Advantis Projects & Engineering (Pvt.) Ltd.). Sampath Kumarasinghe (DGM – TATA Commercial Vehicles Sales – DIMO), Chinthaka Jayakody (GM – TATA Commercial Vehicles Service – DIMO), Prasanna Mapatunagamage (Business Unit Manager – TATA Commercial Vehicles Sales – DIMO), Dimuth Kosgahakumbura (Manager – Engineering & Business Development – Advantis Projects & Engineering (Pvt.) Ltd.), Indika Gamage (Head – Fleet Administration – Advantis Projects & Engineering (Pvt.) Ltd.), Vinura Mannapperuma (Engineer – Advantis Projects & Engineering (Pvt.) Ltd.), Sachintha Gamaethige (Fleet Maintenance Engineer – Advantis Projects & Engineering (Pvt.) Ltd.), Suraj Chularathna (Product Manager – DIMO), Ruchira Perera (Sales Executive – TATA Commercial Vehicles Sales – DIMO) were also present at this ceremony