Huawei Y7a, Huawei FreeBuds Pro, Huawei Sound X for an all-inclusive life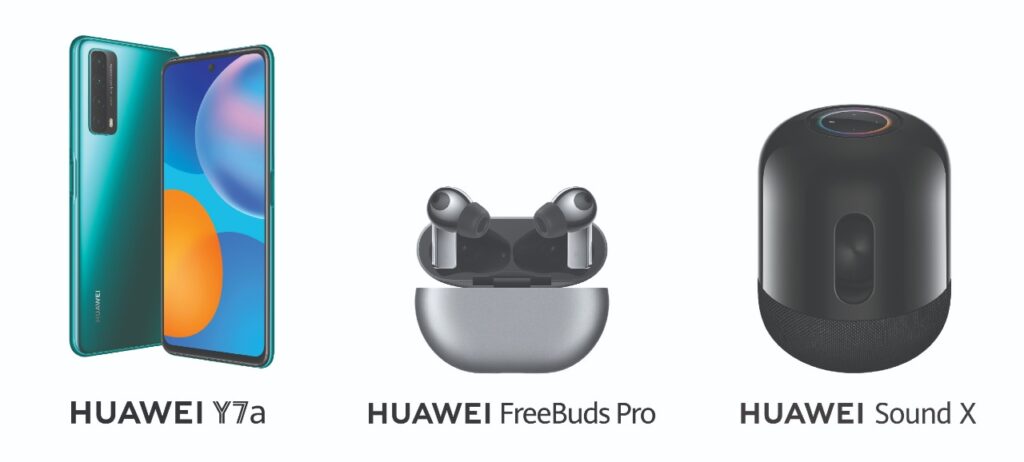 Huawei, the global smartphone brand is renowned for its wide range of product line up from smartphones to laptops, tablets, smartwatches, audio devices and cutting edge technologies such as Huawei Share which keep getting better day by day. With new innovations that drive change, Huawei intends to facilitate digital natives of today who are accustomed to a fast paced life.
Huawei Y7a, Huawei FreeBuds Pro and Huawei Sound X are three of the newly launched Huawei devices that enable the users to engage in day to day tasks efficiently. Huawei Y7a can be easily connected with Huawei FreeBuds Pro in a single tap to receive calls and listen to popular music with the comfort of Active Noise Cancellation (ANC). Besides that, Huawei Sound X has become the new music companion for Huawei smartphone users as it provides high quality music once easily connected.
Huawei Y7a's value for money specs and the affordable price point upbeat the delight of tech enthusiasts and its 48MP Quad AI camera set up, 5000mAh bigger battery, 4GB RAM + 128GB storage and the finest of designs are the major attractions of this device.
Its 6.67 inches display with a 90.3% screen to body ratio is capable of keeping the user's attraction intact while providing an immersive viewing experience. The curved edges of Y7a bring comfort when holding the device in the palm and is ideal for longer usage.
Huawei Y7a's 48MP quad camera is a significant improvement when compared with other smartphones in its price tag. Its quad camera setup consists of a 48MP main camera with f/1.8 aperture, 8MP Ultra wide angle lens with f/2.4 aperture, 2MP Depth lens with f/2.4 aperture and 2MP Macro lens with f/2.4 aperture. This rear camera can perform well even during low/dim light conditions for night life photography backed by the Super Night mode feature. The 8MP selfie camera slotted by way of a punch hole in the display is equally powerful and captures clearer and vivid images day or night.
Huawei Y7a is equipped with a Kirin 710A processor which is eminent for providing a high grade performance for Y series smartphones. The 4Gb RAM + 128GB storage combination provides a top-notch performance which is on par with most other mid range devices enabling the user to conveniently handle multitasking and everyday activities without any lag.
Huawei FreeBuds Pro is well known among the tech enthusiasts as a new-age tech gadget. The hallmark of FreeBuds Pro is the Intelligent Active Noise Cancellation (ANC) feature which is unique in its class and provides a clear hearing experience by intelligently adjusting the background noises to suit the user's environment. Its varied modes such as the Ultra mode with noise cancellation is best suited for listening to music while travelling, as it drastically reduces the background noise. The Cozy mode enables the user to attentively listen to music in work place, library or anyother less disturbing place. The General mode with ANC is ideal for most situations including more populated places.
Huawei Sound X is a portable speaker with dual sub woofers and is highly recommended for mini-functions and entertainment purposes. It comes with Devialet's Speaker Active Matching (SAM) technology bringing real time sound signals to generate high-fidelity audio. Its dual sub woofers are crafted from magnetic rare earth materials powering them to create massive vibrations. Even though the speaker is smaller in size, it features six powerful tweeters which utilize Huawei Sound algorithm to produce stunning surround sound and its bass can hit as low as 40hz.
Huawei Y7a can be connected with Huawei Sound X by way of Bluetooth which is the most popular mode among users. However, the most easiest way is to open the Huawei AI Life app on Y7a and tap search to easily connect with Sound X.
When connected with Sound X, the user can experience high quality music and it literally turns out to be a DJ for family parties and events. All these devices share few things in common and those are the latest technologies and unmatched features embedded to each device in order to provide maximum value for the money spent by users. Tech enthusiasts and reviewers have showered praises on these devices and their popularity has soared day by day.
Huawei Y7a is available to purchase For Rs. 39,999/-, Huawei FreeBuds Pro for Rs. 34,499/- and Huawei Sound X for Rs. 57999/- at all Huawei experience centers, island wide Singer showrooms, Daraz.lk and Singer.lk.