Raja Jewellers introduces the 'Persona' men's jewellery collection
Raja Jewellers, recognized as the undisputed monarch of the gold world introduces its latest men's jewellery collection 'Persona' – a particular type of character that a person seems to have and that is often different from their real or private character – along with a promotion in celebration of Father's Day. Raja Jewellers identified that there are minimal options and a gap in the Sri Lankan jewellery market for men's jewellery collections, which is why its new 'Persona' collection is introduced. 'Persona' offers a special 15% discount on the 16th, 17th, and 18th of June in lieu of Father's Day 2022 for AMEX, HSBC, and Sampath, as well as Dialog Club Vision and HNB Assurance Customers which will be offered within this promotion campaign. The "Persona" men's jewellery collection will be available at all Raja Jewellers showrooms in Bambalapitiya, Negombo, and Kandy, with ample parking facilities at the Colombo and Negombo showrooms.
Commenting on the latest men's range of unique jewellery, the Managing Director of Raja Jewellers, Athula Eliyapura stated, "We are happy to introduce our new men's jewellery collection in line with this year's Father's Day celebrations. Men's jewellery has always been a niche market and we pride in becoming the first and only jewellery manufacturer to offer a distinguished men's collection. To celebrate and honor all fathers', we are excited to introduce the exquisitely crafted "Persona" collection. This collection of finely-crafted cufflinks, bracelets, and pendants for men opens doors to uniquely celebrate the hero in your lives. Our offerings encompass a wide spectrum of luxurious adornments, letting you discover something truly exquisite. We provide a variety of bespoke services for customers who desire delicate adornments for their special days or to commemorate extraordinary achievements."
Adding to Raja Jewellers' existing collections of timeless beauty and delivering exquisite craftsmanship, the new 'Persona' men's jewellery collection is aesthetically pleasing. Unparalleled in perfection and unrivaled in beauty, these designs are incomparable and unseen among jewellers in Sri Lanka. The new designs also present a unique opportunity for Sri Lankan consumers to experience a collection that illustrates the magic of exceptionally beautiful jewellery while celebrating and honoring all fathers.
Over the span of nine decades, Raja Jewellers has become a brand that always values the Sri Lankan culture, and is one of the most accomplished entities in the jewellery industry of Sri Lanka. Its immaculately handcrafted pieces are renowned locally and across the world, while the comprehensive variety of jewellery available caters to men, women, and children. Utilizing the finest materials such as gemstones, zircons, and refined gold, it forges timeless works of personal decoration. Throughout the company's existence, Raja Jewellers has established lasting relationships with customers through foundations built on trust, excellence in service, and providing unique handcrafted pieces of jewellery.
Raja Jewellers has earned a collection of awards throughout its existence for its high-quality standards. The latest addition to its awards cabinet is the National Business Excellence Award 2021, along with its four Presidential Gold Awards presented to them by the National Gem and Jewellery Authority of Sri Lanka, recognizing the company as the Best Jewellery Manufacturer, the Jewellery Organization with the Highest Quality Standards, the Best Gold Jewellery Item, and the Most Experienced Gem Cutter, reaffirming Raja Jewellers' reputation as the monarch of the gold world.
For more information on Raja Jewellers' extensive collection, visit www.rajajewellers.com, its Facebook page at https://www.facebook.com/Rajajewellers.lk/, or its Instagram page at https://www.instagram.com/rajajewellers.lk/
END
Photo Caption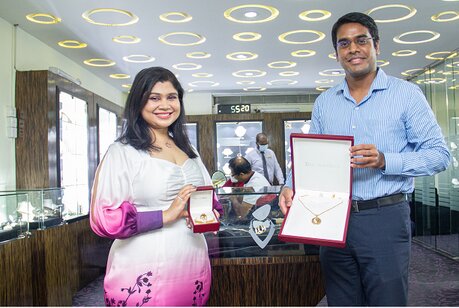 From Left to Right: Ranmini Eliyapura, Director, Raja Jewellers: Dr.Tharanga Perera, Director, Raja Jewellers.