Colombo Expats Cultural Association is giving a new vision of life to Kids in children's Homes
Colombo Expats Cultural Association (CECA), a vibrant community in Sri Lanka comprised of over 160 expats from India, Bangladesh and Nepal, is organizing a nationwide painting competition for 60 children in various child care homes. CECA's initiative, now in its second phase, is conducted in association with the Ministry of Education, the Department of Probation and Child Care Services, the High Commission of India, Colombo and various other supporting organizations such as Facia, Taj Samudra Colombo, Coca-Cola Sri Lanka, Anilana Hotels & Properties PLC, Trident Corporation, Asian Paints Causeway, Lanka IOC, Dialog Axiata, BookMyShow, Nestle Lanka, Diamond Cutters Limited, B R De Silva & Co, House of Fashion, 3 Star Labour and Machinery Supply Co., Kings Hospital, Far Shipping Agencies Pvt Ltd and CEAT Kelani.
The first phase of the campaign was an arts competition which was held during the second Pandemic lockdown in 2020. A total of 4,375 kids from 369 Children's Homes across the country participated and 60 winning paintings drawn by various age groups were published on greeting cards and sold in the market. The proceeds were then channeled back towards the welfare of children living in child care homes.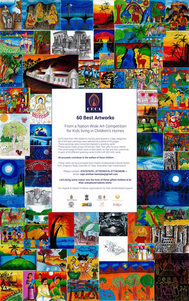 This noble initiative rewards the children and shows them that there 'is a better life out there' which, with some sacrifices, they too can achieve. In this second phase CECA is planning to bring the 60 winning children to Colombo on the 10th of April and hostthem for a night at Hotel Taj Samudra and take them on a city tour of Colombo followed by a movie screening at Scope Cinema. An arts competition will be hosted this time as well, followed by a 30-minute cultural program that will be performed by CECA kids & Swami Vivekananda Cultural Centre, the cultural arm of the High Commission of India, Colombo. The winners of the said arts competition will be awarded Certificates and monetary prizes in the form of children's own savings accounts provided by Pan Asia Bank under special interest rates which they will be able to make use upon entering adulthood. All children participating in this art competition will receive monetary prizes in a children's own special savings account which they can make use of after entering adulthood.
About Colombo Expats Cultural Association (CECA):
CECA is a multi-cultural organization of more than 160 active members whose President is Capt. A. Banerjee. CECA has carried out many Corporate Social Responsibility Projects to serve the Sri Lankan community. CECA supplied dry rations to 52 different children's homes in the Western province during the April – May 2020 lockdown. CECA also initiated "Santa Returns" last year, a program to distribute toys & clothes for children's homes during Christmas.