Hemas Consumer partners with Rainforest Protectors for a greener Sri Lanka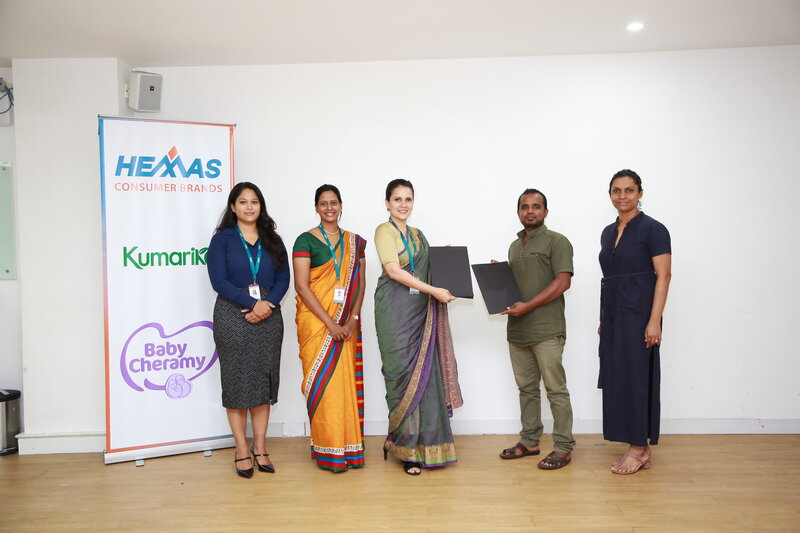 Hemas Consumer, a leading manufacturer in Sri Lanka's Home and Personal Care sector in a ground-breaking partnership with Rainforest Protectors Sri Lanka, will join hands to reforest 15 acres of land, in its pioneering efforts to address the deepening environmental crisis.
The partnership was officially declared with the MoU sign-up, which happened at the Hemas Consumer Head Office with the participation of Fiona Juriansz Munasinghe – Director Marketing Hemas Consumer, Azmara Mannan Perera – Marketing Manager Hemas Consumer, Sherlene Gunanayagam – Brand Manager Hemas Consumer, Jayantha Wijesinghe – Convener & Chief Organizer of Rainforest Protectors and Lakmali Jayaratne – Member, Executive Committee of Rainforest Protectors. Hemas has collaborated in this project with an aim to embed sustainable forest management practices within Sri Lanka and extend its support towards social endeavours to conserve forests.
Hemas Consumer will be monitoring and evaluating the project while providing the due support with guidance and necessary impetus for this timely initiative which increases the forest cover and leads the way to a greener Sri Lanka.
Baby Cheramy and Kumarika, two of the highly renowned personal care brands of Hemas will champion this long term project which will be a catalyst in driving the best practices in forest conservation while maintaining the forested areas for the betterment of the future generation. Hemas Consumer has a shared vision to foster the forest ecosystem in Sri Lanka and the company has previously supported several reforestation initiatives, including reforesting a land in Kathlana, in close proximity to Sinharaja in a bid to battle the negative impact caused through deforestation.
Speaking on the new partnership, Fiona Juriansz Munasinghe – Director Marketing Hemas Consumer said, "We are excited to partner with Rainforest Protectors to implement this new reforesting initiative which will indeed bode well for Mother Nature. This is only the beginning for us at Hemas Consumer as we have many plans on reforesting and protecting biodiversity. We are in this for the long haul and extremely happy that this partnership provides us the space to see our investments in nature and bio-diversity come to life. Hemas remains entirely committed to boost bio diversity and regenerate ecosystems that ultimately benefit Mother Nature and her inhabitants."
Hemas pioneers the concept of healthful living with a strong passion for community support initiatives. Hemas identifies that these collaborative efforts are a call to action in encouraging the public, stakeholders and other authorities to be a part of such nation-wide initiatives.
Rainforest Protectors of Sri Lanka are a group of volunteers and sponsors dedicated to protecting Sri Lanka's last remaining rainforests through investigation, awareness campaigns, conservation and restoration initiatives. This non-profit environmental organization has been actively engaging in protecting several ecosystems such as Sinharaja and Kanneliya rainforests and through Rain Forest Protectors trust, the group focuses on protecting rainforest lands.
Jayantha Wijesinghe – Convener & Chief Organizer of Rainforest Protectors shared, "We believe that reforestation campaigns can help in conquering adverse scenarios such as loss of bio diversity and habitats. While most tree planting campaigns are temporary, long term reforestation projects like these can be a very effective approach in preserving bio diversity and help in maintaining the forest cover needed for the survival of our future generations."
Reforestation has proven to be highly beneficial for the earth in multiple ways. Reforested areas become a habitat for wildlife and plants while also helping to restore the endangered species. When trees grow and consume air, they remove the harmful pollutants of air, improving the air quality. Reforestation minimizes the impact of floods and soil erosion while providing fresh water resources. It also ensures that extreme air temperatures are controlled which have a direct impact to the life on earth. Besides, Reforestation is the ultimate weapon against adversities such as global warming and climate action which have the potential to trigger devastating impacts.
Hemas Consumer is a leading manufacturer in Sri Lanka's Home and Personal Care sector. Hemas started with a simple intent: to help families live healthfully. This core belief has underscored its growth for over 70 years. Today, as a leading public quoted company, it brings healthful living to life through a portfolio of world-class products and services in the Consumer, Healthcare and Mobility sectors. Woven into the socioeconomic fabric of Sri Lanka, Hemas continues to invest in diverse and passionate teams, creating meaningful offerings, cultivating trusted partnerships, leading environmental initiatives and championing a more inclusive world.
Photo Caption
(From Left to Right) Hemas Consumer Marketing Manager – Azmara Mannan Perera, Brand Manager – Sherlene Gunanayagam, Director Marketing – Fiona Juriansz Munasinghe, Convener & Chief Organizer of Rainforest Protectors – Jayantha Wijesinghe, Member, Executive Committee of Rainforest Protectors – Lakmali Jayaratne