Swadeshi becomes the first personal care and soap manufacturing company in Sri Lanka to earn Covid-19 Safety Management System Certification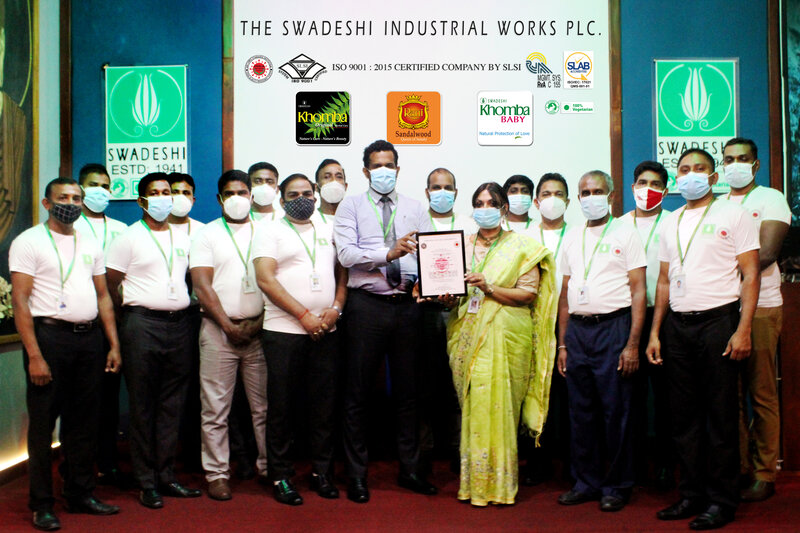 The Swadeshi Industrial Works PLC is the first soap and personal care products manufacturing company in Sri Lanka to receive the Covid-19 Safety Management System Certification awarded by the Sri Lanka Standards Institution (SLSI).
Covid-19 safety management system certification is a testament to Swadeshi's proactive initiatives in effectively managing the risk of Covid-19 from the very beginning of the pandemic in early 2020. The certification also demonstrates Swadeshi's commitment to prioritize safety of employees, visitors, products and services, distribution processes at all costs.
Commenting on the Covid-19 safety management certification, Ms. Chulodhara Samarasinghe – Deputy Chairperson/Managing Director of Swadeshi stated, "We are indeed proud to receive this certification in appreciation of our risk management efforts to ensure a safer working environment to continue operations. In the fight against Covid-19, we have taken necessary steps from the very beginning to implement safety protocols and to uplift the morale of employees, so that they could work without any fear. Today, we are happy of the progress we have made amid the challenging times whilst protecting our employees. We believe that challenges can be overcome with proper control methods and hygiene standards."
The certification has been awarded after thorough inspection and auditing of the entire processes from implementing necessary prevention measures, maintaining the expected standards to continuous improvement of the safety standards, and taking utmost care of employees, production and distribution processes and more.
"We encourage all employees at Swadeshi to practice wearing masks, keeping distance, washing and sanitizing hands, disinfection of the factory premises to safeguard the employees and to operate without any risk." Ms. Samarasinghe further added.
All common areas were separated by shields, transport was provided, handwashing & sanitization, temperature checks, PCR testing, visitor records, frequent awareness with training and many other necessary requirements were carried out. We also have taken steps and allocated resources for frequent disinfection.
Swadeshi also started manufacturing its latest sanitizer product with Khomba, as an extension of its Khomba herbal soap used for generations in Sri Lanka. The ingredients Kohomba, Margosa, Neem are well-known for providing natural protection against germs.
The Khomba herbal hand sanitizer with Kohomba, Lemongrass and Aloe vera introduced to the market by Swadeshi during this turbulent period is gaining popularity among consumers. This hand sanitizer is registered by the National Medicines Regulatory Authority (NMRA) and it is proven to be safe for applying on hands. Swadeshi ensured that Khomba sanitizer was available for all its employees for staying safe and also used its own disinfection liquid to disinfect Swadeshi premises frequently and also conducted disinfection projects in several schools around the area as well as hand washing sinks were provided for schools island wide.
During the pandemic, Swadeshi made sure that all its products were available to consumers, which was critical to keep consumers' hygiene levels in the fight against Covid 19. The SLSI standard is very useful for companies and organisations, including Swadeshi to use correct safety methods for a Covid 19 free environment.
Swadeshi, a truly Sri Lankan company has claimed many industry firsts to its name including the most recent Covid-19 safety management certification. The pioneer and market leader in the soap and personal care category in Sri Lanka, the Swadeshi Industrial Works PLC, an ISO 9001:2015 certified company was incorporated in 1941. Swadeshi is renowned for its trademark herbal care products: Khomba, Rani and Khomba baby, which have been warmly embraced by Sri Lankans over the years. The company has a rich history of 80 years and is now venturing into global markets backed by its years of trusted excellence. The company specializes in best quality skin care products using natural herbal ingredients that are mild and gentle on skin. Among the popular brands of Swadeshi are Khomba Herbal, Rani Sandalwood, Khomba Baby, Little Princess, Perlwite, Lak Bar, Safeplus, Lady, Black Eagle Perfume and Swadeshi Body Wash & Shower Gel range. All products manufactured by Swadeshi are 100% vegetarian and animal cruelty free.
Photo Caption
Mr. A. I. Udawatte – Chief Executive Officer, Ms. C.S.M. Samarasinghe – Deputy Chairperson/Managing Director and the senior management of The Swadeshi Industrial Works PLC and the Covid Task Force of Swadeshi