𝐂𝐞𝐲𝐥𝐢𝐧𝐜𝐨 𝐋𝐢𝐟𝐞 𝐝𝐨𝐧𝐚𝐭𝐞𝐬 𝐇𝐢𝐠𝐡 𝐅𝐥𝐨𝐰 𝐍𝐚𝐬𝐚𝐥 𝐂𝐚𝐧𝐧𝐮𝐥𝐚 𝐞𝐪𝐮𝐢𝐩𝐦𝐞𝐧𝐭 𝐭𝐨 𝐁𝐚𝐭𝐭𝐢𝐜𝐚𝐥𝐨𝐚 𝐓𝐞𝐚𝐜𝐡𝐢𝐧𝐠 𝐇𝐨𝐬𝐩𝐢𝐭𝐚𝐥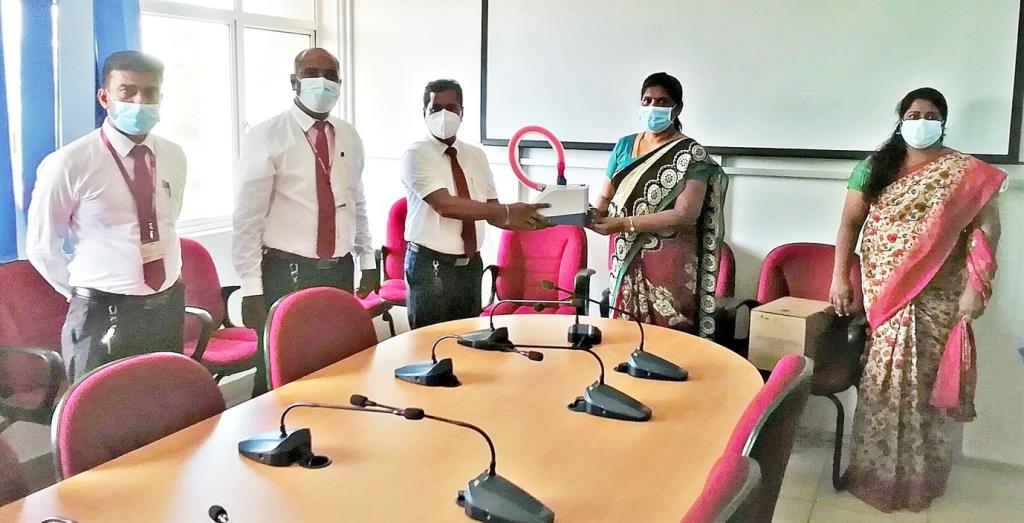 The Teaching Hospital Batticaloa is the latest recipient of High Flow Nasal Cannula (HFNC) equipment donated by Ceylinco Life under a programme to support institutions at the forefront of treating victims of the COVID-19 pandemic.
The donation comes weeks after the life insurance leader presented similar equipment to the Colombo South Teaching Hospital, Kalubowila.
The HFNC apparatus is used to treat patients with severe hypoxic respiratory failure. Valuable for those requiring oxygen via a non-invasive ventilator, the HFNC is also used to bridge patients being weaned from invasive ventilation.
A consistent benefactor of government hospitals, Ceylinco Life has built, equipped and donated High Dependency Units (HDUs) to the Colombo South Teaching Hospital, Kalubowila, the National Hospital, Colombo, the Lady Ridgeway Children's Hospital and the Jaffna Teaching Hospital. HDUs are needed to upgrade a patient from normal care or as a step down from intensive care, helping release beds in the intensive care units. These units are used for post-surgery care, before transferring patients to the wards, or to treat an intensive disease.
Pictured here at the donation of the High Flow Nasal Cannula device to the Batticaloa Teaching Hospital are (from left) Ceylinco Life's Manager Business Development Mr K. Sumanthiran, Assistant Regional Sales Manager Mr S. Venukaran and Senior Business Promotion Manager Mr N. Pushpaharan presenting the equipment to the Director of the Hospital Dr K. Ganeshlingam and Deputy Director – Dr M. Barthelot.
Source – ada derana biz