GENNEXT Sri Lanka joins National ICT Awards – NBQSA 2022 as Gold Partner
GENNEXT Sri Lanka, one of Sri Lanka's leading IT and telecommunications companies has been appointed as the Gold Partner for the National ICT Awards NBQSA 2022. Having reached the final stages of the marquee event, the NBQSA Awards ceremony is set to be held on 04th November 2022.
''As a leading digital transformation tech company in the country, providing innovative solutions to small, midsize and enterprise businesses, we are indeed happy to collaborate with NBQSA 2022 and support to uplift the ICT industry in Sri Lanka. The ICT industry in Sri Lanka provides a wide array of opportunities to budding entrepreneurs. As such, national level recognition such as this will no doubt help to discover and nurture local talent in individuals and groups, within the ICT sector that would inspire them to innovate" stated Shermal Jayatilaka, Director and Co-founder of GENNEXT.
Mr. Sanharsha Jayatissa, Chairman, National ICT Awards – NBQSA 2022 said, "Collaborations and sponsorships are essential for a national level event to be successful. We are excited to announce that GENNEXT has partnered with us and expressed their keen interest to support the NBQSA 2022."
Mr. Vajeendra S Kandegamage, Chairman of BCS Sri Lanka Section stated, "we are happy to see GENEXXT partnering with us as the Gold sponsor of NBQSA 2022. GENNEXT is well known for being a leading System Integrators in Sri Lanka. We thank them for supporting us to make the national endeavour a success". 
As Sri Lanka's foremost Chartered IT Professional body, BCS strives to facilitate improvements in the quality and standards of products and services in the ICT industry in the nation. Upon recognising the best products and services, BCS facilitates business matching and investment promotions to help developers, companies and the ICT industry to grow to unprecedented levels. The ultimate aim of this facilitation is to raise the Sri Lankan ICT industry to be on par with international standards.
ENDS
Photo Caption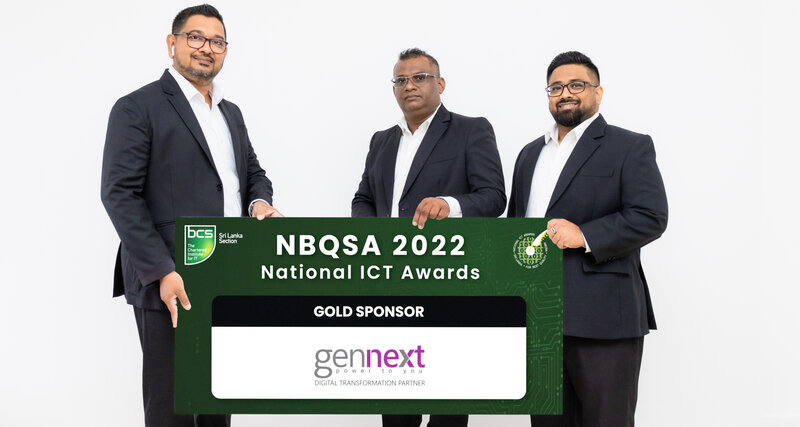 Left to Right
Shermal Jayatilaka,Director and Co-founder of GENNEXT.
Mr. Vajeendra S Kandegamage, Chairman of BCS Sri Lanka Section
Mr. Sanharsha Jayatissa, Chairman, National ICT Awards – NBQSA