VACCINE CRISIS IN SRI LANKA – LANKANS APPEAL TO UK PRIME MINISTER, BORRIS JOHNSON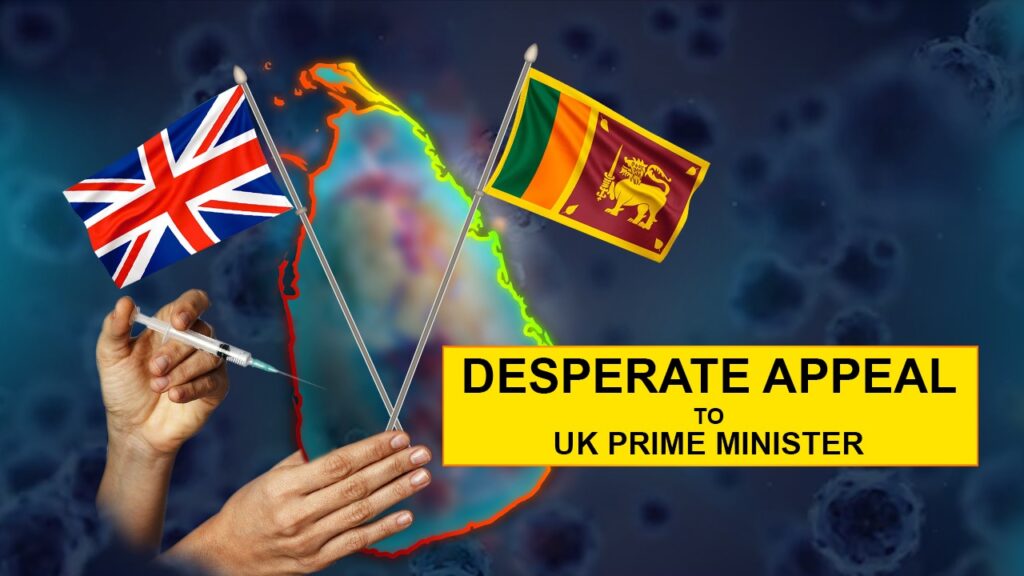 Sri Lankans living in UK have made an urgent appeal to Prime Minister, Boris Johnson for the supply of 600,000 Astra Zeneca vaccines.
World Health Organization Director General Tedros Ghebreyesus has repeatedly warned about the scandalous inequity of vaccines and stressed that more than 75% of all vaccines had been administered in just ten countries. "The world remains in very dangerous situation" Tedros told the opening of the annual assembly of health ministers from the 194 member states on 24th May 2021. He re-iterated that a small group of countries that make and buy the majority of the world's vaccine control the fate of the rest of the world. The WHO confirms that unless 80% of the world's population is fully vaccinated we continue to be at risk globally in the long term.
Astra Zeneca is the only company that has committed to not profiting from the COVID-19 vaccine during the pandemic. The Joint Committee on Vaccination and Immunisation (JCVI) recommends that people under 40years of age are offered an alternative to Astra Zeneca to reduce the risk of rare blood clots. Therefore, UK is expected to have a surplus of Astra Zeneca vaccines soon.
The Appeal to UK Prime Minister on 23rd May 2021 highlights that just over one million people out of a population of 22 million have received the first dose of vaccine, majority Covishield/Astra Zeneca and about 600,000 are stranded without the second dose with several thousand healthcare workers at risk. The tragic death toll and illness amongst the general public is mounting by the hour. With a total of about 600 Intensive Care Unit (ICU) beds and grossly inadequate ICU facilities in national hospitals, Sri Lanka faces an appalling rate of attrition that her fragile Health Service can ill-afford.
The Appeal is spearheaded by Dr Tush Wickramanayaka, a NHS General Practitioner and daughter of former Prime Minister of Sri Lanka, Ratnasiri Wickramanayaka and is endorsed by many politicians and professionals of Sri Lankan origin living in UK. The following organizations in UK have also supported the appeal: Association of Professional of Sri Lanka, Meththa Foundation, Medical Institute of Tamils, Friends of Manipay Hospital, Association of Sri Lankan Lawyers in UK, Hela Sarana, Medical Aid to Sri Lanka, Sri Lankan Medical and Dental Association in UK, Council of Sri Lankan Muslim Organizations UK, Kandy Girls High School Old Girls Association UK, Peradeniya Medical School Alumni Association UK, Mahamaya Old Girls' Association, Visakha Vidyalaya PPA, Ananda College OBA, Kingswood College OBA, Ananda College Old Boys' Association , Musaeus College Past Pupils' Association, World Forum of Sri Lankan Muslims.
The global humanitarians urge Britain to use its Chairmanship of G7 to propose that the world's vaccine manufacturing countries co-operate in a spirit of compassion and generosity to ensure that all citizens everywhere receive vaccines without impediments. "The Sri Lankan diaspora play a significant role in Britain, especially in National Health Service (NHS) contributing tremendously to UK's socio economic development. It is crucial that UK assists our fellow cousins in Sri Lanka, a pioneering member of the Commonwealth whose people stood in solidarity with Britain during two world wars", advocates Dr Wickramanayaka.
The patriots are passionately working together irrespective of race or creed to avoid a humanitarian disaster in Sri Lanka. They have heavily lobbied their local Members of Parliament to write/question PM Johnson and other key members of the Cabinet in support of prioritizing Sri Lanka. Dr Wickrmanayaka et al are confident of a favourable response from the UK Government.