DIMO together with Allianz provides its customers 'MercedesProtect', a Zero-Owner's Share Motor Insurance program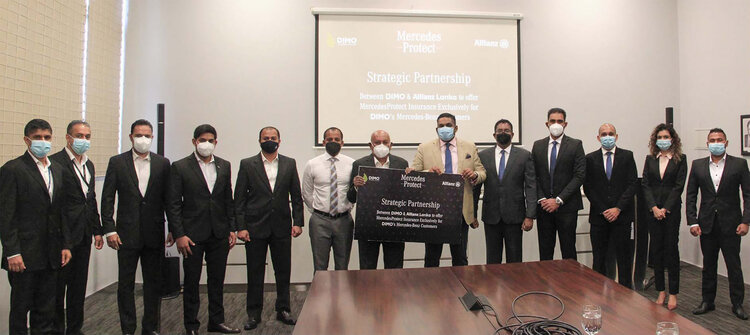 DIMO, one of the leading diversified conglomerates in Sri Lanka, recently launched 'MercedesProtect' a tailor-made motor insurance program exclusively for DIMO's Mercedes-Benz customers. In collaboration with Allianz, the Global Insurance Partner for Mercedes-Benz, it was launched to cater the best to the esteemed Mercedes-Benz clientele of DIMO.
MercedesProtect is a zero-owner's share insurance facility, completely giving up the owner's account portion of motor insurance claims, providing 'Accident Repairs absolutely at Zero Cost'. Within this program, the customer does not have to bear any portion of the accident repairs of the motor insurance claim, making MercedesProtect the best protection for the reputable Mercedes-Benz vehicles.
This Insurance program applies to vehicles under 05 years from the respective manufactured date, while all body & paint repairs, and services are handled exclusively at DIMO 800, the Mercedes-Benz Centre of Excellence. All repair work is carried out strictly according to the Mercedes-Benz AG repair guidelines with the promise of bringing the precious three-pointed 'Star' back to shine at its optimal condition and performance after an unfortunate accident. DIMO is the only authorized agent for Mercedes-Benz in Sri Lanka and also owns the only Mercedes-Benz AG Certified General Distributor Service Centre for Body & Paint Repairs in the whole of South East Asia, with a pool of highly-skilled Mercedes-Benz AG trained technicians. All repairs and services implemented are according to the Mercedes-Benz AG specified repair guide, with the use of Mercedes-Benz genuine parts, special tools and equipment.
The key benefits of MercedesProtect include the 'Call & Go' facility specially designed to offer the highest convenience to all esteemed Mercedes-Benz customers of DIMO. With this facility, motorists do not have to twiddle their thumbs waiting for an agent to arrive at the accident site. Instead, the customer can inform Allianz Insurance and continue their journey while the rest will be taken care of by Allianz Lanka, offering great convenience to the busy schedules of the esteemed Mercedes-Benz clientele.
DIMO, together with Allianz, provides the valued Mercedes-Benz customers a personalized motor insurance card for MercedesProtect Insurance Program in both printed and e-card versions, which are equally valid at any point.
MercedesProtect covers not only the owner of the vehicle but also the third parties. It covers third-party damages up to Rs. 10 million for privately owned motor cars, taking a huge burden off the shoulders of the Mercedes-Benz customers while also offering protection against natural hazards, third party property damages, a windscreen cover up to Rs. 100,000 and a full cover for deployed airbags for selected models. Family has been a top priority when formulating MercedesProtect. In order to support this model, MercedesProtect is equipped with several unique covers such as a baby on-board protection, medical cover and a life cover. This unique insurance program focuses on supporting the customers with the settlement of any outstanding capital in a lease up to Rs. 500,000 during serious injuries.
Gany Subramaniam, Chief Executive Officer of Allianz Insurance Lanka Limited, said, "We are excited to build on Allianz's long-standing global relationship with Daimler and extend a range of added privileges to DIMO's Mercedes-Benz customers in Sri Lanka. Through this partnership, we are delighted to present 'MercedesProtect' an exclusive insurance solution, tailor-made to suit the unique lifestyles of the valued clientele. Delivering world-class protection and a suite of exquisite benefits, it is designed to offer them greater peace of mind and confidence. We remain committed to secure the lives of our customers, continuing to work with like-minded partners like DIMO, offering innovative insurance solutions that give the customers greater courage to face the future."
Rajeev Pandithage, Chief Operating Officer, Mercedes-Benz Cluster of DIMO, said, "DIMO is breaking new grounds in the nation with its emphasis on best customer experience, staying true to the Mercedes-Benz motto of 'the best or nothing'. This tailor-made insurance program delivers a whole package of a value-added motor insurance coverage, guaranteed peace of mind and the massive trust placed in DIMO for over eight decades."
MercedesProtect includes a special cover for towing services from the accident site to DIMO 800 Service Centre, where the customer is offered with the opportunity to reimburse the towing charges up to Rs. 10,000. In addition, if the repairs take more than three days to complete, a taxi-fee reimbursement cover of Rs. 1,000 per day will be offered to the customer up to a total of fifteen days. This ensures that the valued Mercedes-Benz customers will not be stranded at any point.
Insuring one's home and business can be manic. Therefore, to ease the burden of managing different forms of insurance, MercedesProtect offers 25% off on all premiums for home and shop insurance. MercedesProtect also offers leasing / hire purchase assignments for selected incidents and Allianz Drive Safe '2 in 1' premium protection is also applicable for private and rented vehicles when applicable.
Allianz Lanka is a fully-owned subsidiary of Allianz SE, Germany, the holding company of the Allianz Group, a world leader in integrated financial services. In 2009, Allianz SE entered a strategic partnership with Mercedes-Benz AG, which has now spread across 27 countries worldwide. Having started out as a Greenfield operation in 2005, Allianz Lanka is currently one of the fastest growing insurance providers in Sri Lanka and prides itself on supporting its clients with their business strategies by understanding their risk profiles and needs to provide relevant solutions from its world class product portfolio. It is backed by the strength of the Allianz Group, which has over 100 million retail and corporate customers and is one of the world's largest investors.
ENDS
About DIMO
DIMO is involved in a number of related fields and represents many prestigious principals such as Mercedes-Benz, Siemens, Jeep, KSB, TATA Motors, MTU, Komatsu, Michelin, Zeiss, MRF, Bomag, Claas, TK Elevator, Mahindra Tractors and Stanley to name a few. From a company known for vehicles, DIMO today has diversified into many areas. Medical Engineering, Building Management Systems and Services, Power Generation and Distribution, Material Handling, Storage and Warehouse solutions, Power Tools, Agricultural Equipment, Total Lighting Solutions, Power systems and Generators, Refrigeration, Ship Repairing and Driver Training Courses are some of the areas into which DIMO has entered during the past few decades. DIMO has also diversified into fertilizer and agriculture input market. DIMO successfully entered into overseas markets in the Maldives and Myanmar, by expanding their Marine and General Engineering services through partnerships in the Maldives and their automobiles and automobile servicing segments into Myanmar. DIMO is currently working to consolidate on current overseas operations with new markets in East Africa.
Photo Caption
DIMO and Allianz Lanka officials at the 'MercedesProtect' Motor Insurance program initiation ceremony