First Michelin Tyre Service concept store inaugurated in Colombo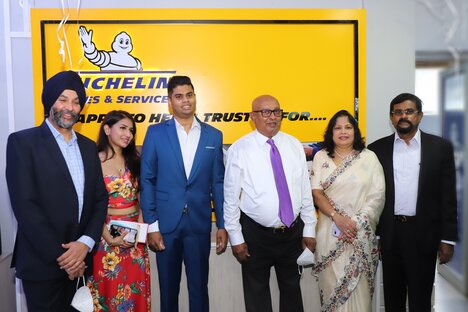 Michelin, the world's tyre technology leader, together with its local partner DIMO, a leading diversified conglomerate in Sri Lanka, recently inaugurated Sri Lanka's first state of the art Michelin Tyre Service (MTS) concept store in Colombo.
Sri Lanka's first MTS showroom is located at Kusum Tyres, No. 822, Colombo – Kandy Road, Thorana Junction, Kelaniya and is spread over a total area of over 8000 square-feet, with a vibrant ambience, along with an innovative display of tyres and accessories. The new store comes with a strong team of technically trained executives and a fully equipped workshop to offer all tyre and vehicle related services.
Manish Pandey,Commercial Director, India Cluster said, "As we continue to strengthen our distribution footprint in the country, the Michelin Tyre Service concept store will exemplify the best purchasing experience and we are delighted to bring it to Sri Lanka. At this store, we offer a pleasing environment and industry leading products and services to our customers in Sri Lanka."
Vijitha Bandara, Executive Director of DIMO said, "This is indeed a great milestone for DIMO and our long-standing partner Michelin. Together with Michelin, DIMO is committed to create the best customer value, and through this concept store we can redefine the industry with an innovative approach. DIMO, with its purpose of fuelling dreams and aspirations, will always strive to deliver the best customer experience."
A retail concept developed by Michelin, the Michelin Tyre Service store is part of an independent professional network of tyre retail stores that offers Michelin tyres as well as other branded tyres, along with professional services such as tyre repairs, wheel balancing and wheel alignment. The store also offers non-tyre related services such as oil and battery changes, comprehensive brake inspection and replacement, and minor mechanical repair services, all under one roof at competitive prices, in a clean, friendly, safe and comfortable environment.
As the sole distributor for Michelin Tyres in Sri Lanka, DIMO offers a wide range of Michelin Tyres including motorcycle, passenger car, SUV and truck, and bus tyres, through its island-wide dealership network of long-standing, reputed business entities. The well-established Michelin brand is backed by DIMO trust and its unmatched after sales services.