Edward & Christie Group procures TATA LPK 1618 Tippers from DIMO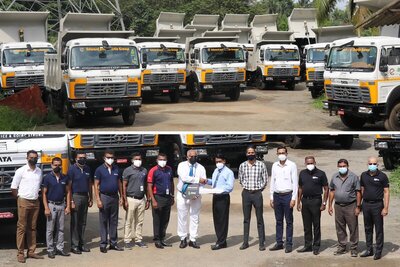 DIMO, one of the leading diversified conglomerates in the country and the only Authorized distributor for TATA vehicles in Sri Lanka, recently delivered 25 TATA LPK 1618 Tippers to Edward & Christie Group with another 15 units on order.
The 25 vehicles which were delivered to Edward & Christie Group were offered primarily for construction and mining industry. It is packed with a Cummins ISBe 5.9 180 40 engine, producing a maximum output of 180 Horsepower. TATA LPK 1618 Tipper comes with a Gross Vehicle Weight of 16,200Kg. The engine capacity is 5883cc and it complies with the BS IV emission standards. With transmissions from 6F, heavy-duty reverse Elliot type front axle and TATA RA – 109 RX heavy duty rear axle, semi-elliptical leaf spring at front and rear suspensions, the tippers are smartly designed with a cabin which comes with AC and ventilation options enabling drivers to operate fatigue-free over long hauls, leading to better productivity. The TATA Tipper comes with power steering, with an impressive gradeability of 42% making the LPK 1618 Tipper a fantastic choice to manoeuvre easily.
Mr. Christie Arawwala, the Group Chairman of Edward & Christie Group stated "We chose TATA LPK 1618 Tippers from DIMO because these vehicles are equipped with better GVW, making it faster on-road operations. They come with a comfortable driver cabin with AC and incurs the lowest operating cost. Most importantly the DIMO warranty with high resale value and after sales service network supported in our decision making."
At the handing over ceremony, Mr. Gahanath Pandithage, the Group CEO of DIMO expressed his thoughts, "The world-class LPK 1618 Tippers are manufactured by TATA Motors, the leader in commercial vehicles manufacturing in India. Furthermore, TATA LPK 1618 BLASTER Tipper has transformed and developed the construction and mining industry in Sri Lanka with its advanced technology and minimum operating & maintenance cost. The latest design and enhanced comfort level allow its drivers to operate with minimum fatigue. DIMO is privileged to bring down the entire TATA Commercial vehicle range to Sri Lanka to suit all mobility demands of the Sri Lankan customers backed by DIMO's exceptional after-sales care."
The TATA Commercial vehicle range includes Small Commercial Trucks (payload below 1 ton), single cabs (to use in family and many business applications), Light Commercial Trucks (deck length vary from 10 feet to 20 feet), Heavy Commercial Trucks, Heavy Commercial Tippers, Prime Movers and Buses (28 to 54 seaters).
Edward & Christie Group was formed in 1979, identifying an opportunity and with a vision for Sri Lanka before many others did, a vision for their company to one day be a market leader in the island. Through the many ups and downs during the early years of the company, Edward & Christie Group maintained a strong belief in their vision, never wavering on their commitment or quality to their customers. The following years, as their vision for Sri Lanka started to become a reality, along with it came a boom in the construction industry as the nation started to be recognized as a commercial hub. Although, initially being a provider to the public sector offering services such as highway construction, irrigation and land drainage, storm water drainage construction, water supply and drainage work, dredging and reclamation, Edward and Christie Group pivoted from their strategy and decided to offer their products and services to the private sector as well. With the exponential growth Edward & Christie Group set up a fully equipped machine yard in Badalgama in 1990, further strengthening their commitment to providing highest quality solutions for their clients. Edward & Christie Group holds the prestigious Grade CS2 in Highway & Road Construction industry, awarded by the Construction Industry Development Authority (CIDA), the highest certification in these categories offered only to the very best in the industry. Today, they stand strong as a Group with Edward & Christie Engineering Solutions and C-COM Equipment (Pvt) Ltd being new companies formed to strengthen the Group Operations.
"The company consists of a team of dedicated professionals who possess a wealth of experience in the construction and mining industry and heavy engineering, enabling the company to positively meet a diversified range of demands by providing the service to maximize customer satisfaction. We are proud to induct these new Tippers to our existing fleet of over 50 TATA vehicles", added the Group Chairman, Mr. Christie Arawwala.
TATA Motors India and DIMO have a strong relationship spanning more than 60 years and TATA Commercial Vehicles have played a vital role in the daily lives of many Sri Lankans. TATA Commercial vehicles is the market leader in most of the categories, which it operates in. DIMO – TATA currently operates with more than 19 branches plus more than 400 dealers across the island to offer TATA Sales, Service and Genuine Spare Parts and to provide its unique 24-hour roadside assistance service to the valued TATA customers.
END
About DIMO
Diesel & Motor Engineering PLC (DIMO) is involved in a number of related fields and represents many prestigious principals – Mercedes-Benz, Siemens, Jeep, KSB, TATA Motors, MTU, Komatsu, Michelin, Zeiss, MRF, Bomag, Claas, TK Elevator, Mahindra Tractors and Stanley to name a few. From a company known for vehicles, DIMO today has diversified into many areas. Medical Engineering, Building Management Systems and Services, Power Generation and Distribution, Material Handling, Storage and Warehouse solutions, Power Tools, Agricultural Equipment, Total Lighting Solutions, Power systems and Generators, Refrigeration, Ship Repairing and Driver Training Courses are some of the areas into which DIMO has entered during the past few decades. DIMO has also diversified into fertilizer and agriculture input market. DIMO successfully entered into overseas markets in the Maldives and Myanmar, by expanding their Marine and General Engineering services through partnerships in the Maldives and their automobiles and automobile servicing segments into Myanmar. DIMO is currently working to consolidate on current overseas operations with new markets in East Africa.
Photo Caption
Mr. Gahanath Pandithage (Group CEO – DIMO) and Mr. Christie Arawwala (Group Chairman – Edward & Christie Group) at the vehicle delivery with the officials of DIMO, Edward & Christie and TATA Motors.