Swadeshi Khomba Baby partners with Hatton National Bank to gift mothers with new born babies
Trusted for 80 years Sri Lanka's No. 01 herbal care brand Swadeshi Khomba, with its baby brand Khomba Baby, partnered with Hatton National Bank to gift mothers with new born babies. Swadeshi Khomba Baby will gift an attractive Khomba baby personal care gift pack while Hatton National Bank will offer HNB Singithi Kirikatiyo gift voucher.
"We are happy to partner with Hatton National Bank to gift Sri Lankan mothers and their new born babies with a gift hamper which meets the new born baby's personal care needs. Swadeshi will extend this contribution to island wide maternity hospitals in a bid to educate young mothers of the goodness of using natural ingredients-based baby personal care products. Along with the gift hamper Swadeshi Khomba Baby provides a useful informative booklet on baby care Khomba Baby Kiri Suwade Kathawa to educate young mothers how to blend with nature and new born baby", voiced the Deputy Chairperson/Managing Director of The Swadeshi Industrial Works PLC Ms. C.S.M. Samarasinghe.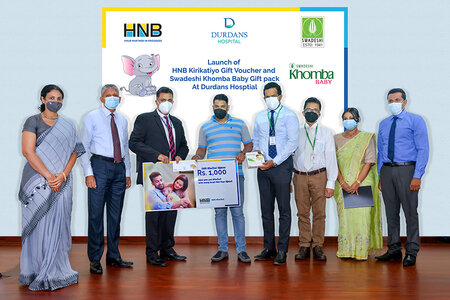 Swadeshi has a rich tradition of helping local communities in various CSR projects enriching the lives of communities living in Sri Lanka. The idea behind this partnership comes from the heart where we believe Sri Lankan mothers should use natural, safe and gentle baby personal care products on newly born baby's gentle skin, and Swadeshi Khomba Baby is the best natural ingredients-based soap in the market and Swadeshi has a legacy of producing best quality herbal personal care products and soap since 1941.
We at Swadeshi have been making gentle herbal soaps since 1941 and Khomba Baby brand with a best mix of herbal ingredients is a value add for our consumers. The Khomba Baby Range comprising Soap, Cologne, Cream, Powder, Oil, Shampoo and Gift pack, a combination of time-tested herbal ingredients that makes it the only one of its kind in the local market. Swadeshi's products cater to a growing market segment that is looking for nature friendly products for good health, hygiene, safety and mildness on skin.
All Khomba Baby care products have the miracle ingredient of Kohomba (Neem/Margosa) that protects baby's skin naturally from germs and irritations with its mild and gentle cleansing power. Khomba Baby Soap is the only baby soap in the local market with the best mix of herbs which provides essential nourishment to the skin and soothing fragrances that are mild on skin.
Khomba Baby range consists of four variants of soap, cream and cologne namely Khomba Baby Herbal containing Kohomba, Aloe vera and Olive oil, Khomba Baby Floral with Kohomba, Rathmal, Rose water and Olive oil, Khomba Baby Venivel with Kohomba, Venivel and Olive oil and Khomba Baby Avocado with Kohomba, Avocado and Olive oil. All Khomba Baby products are certified and registered under National Medicines Regulatory Authority (NMRA), of Health Ministry of Sri-Lanka. All fragrances use in Swadeshi products are certified by globally accepted International Fragrance Association (IFRA) and produce under ISO 9001 – 2015 standards.
The main ingredient Khomba has been time tested herbal ingredient which has been used by Sri Lankan mothers for centuries, and Swadeshi the herbal personal care specialist for over 80 years has carefully selected these herbs to give you the best mix of herbs with highest standards. These mixes of herbs have been used for generations to bathe babies to wash off germs naturally and use of herbal ingredients on skin is always safe and gentle.
"As the country's leading herbal personal care products company, we would like consumers to learn more about the functional benefits of the herbal ingredients used by Swadeshi in all its products, we use only the best of Sri Lankan herbs, and all ingredients are extensively researched, and the products fully tested to ensure quality and all our products are 100% Vegetarian, Not tested on animals and Cruelty free."
As a 100% local company Swadeshi continues its nation building and community CSR projects for our Sri Lankan communities. The Swadeshi Khomba brand is dedicated to carrying out sustainability projects which focus on caring for Mother Nature and enhancing cultural values. Company's many community outreach initiatives include, Island wide annual lighting ceremony of temples "Swadeshi Khomba Aloka Puja Sathkaraya", Hand washing sinks for temples and railway stations, Education on hand washing steps through a video targeting children during Covid 19 pandemic situation, Kohomba tree planting campaigns, Donation of water tanks for the communities in dry zone of Sri Lanka, Khomba Baby care gifts to pregnant mothers and educating school children through a "Hoda Purudu" book highlighting the good values.
The pioneer and market leader in the herbal personal care category in Sri Lanka, The Swadeshi Industrial Works PLC, was incorporated in 1941. Among the pioneer brands of Swadeshi are Swadeshi Khomba, Rani Sandalwood, Swadeshi Khomba Baby, Little Princess, Perlwite, Lak Bar, Safeplus, Lady, Black Eagle Perfume and Swadeshi Shower Gel range. All products manufactured by Swadeshi are 100% vegetarian and cruelty free, and have never been tested on animals. This stands testament to the company's forward-thinking practices, as well as our desire to help consumers make ethical and eco-friendly choices. The company has always considered the health and environmental impact of its products, and continues to prioritize it. Swadeshi, a truly Sri Lankan company has claimed many industry firsts to its name including the most recent Covid-19 safety management certification.
Handing over of Swadeshi Khomba Baby gift pack and HNB Singithi Kirikatiyo gift voucher to the parent of new born baby at Durdans hospital, Colombo 03.
From left- Samuddika Mendis – Senior Manager – HNB Kollupitiya Branch, Supun Dias – Head of Network Management and Business Development, Sanjay Wijemanne – DGM – Retail Banking & SME of HNB, Amila Udawatte – Chief Executive Officer of Swadeshi, Chaminda Jayasinghe – General Manager – Marketing of Swadeshi, Chulodhara Samarasinghe – Deputy Chairperson/Managing Director of Swadeshi and Bathiya Jayasinghe – Senior Manager – Business Development – Durdans Hospital.