Huawei Sri Lanka launches 'Seeds for the Future' 2021
18 Talented University Students from ICT careers join the programme this year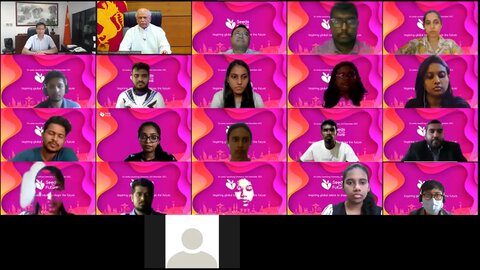 Huawei Sri Lanka launched its flagship Corporate Social Responsibility (CSR) programme Huawei Seeds for the Future for the Sixth year in 2021 with an opening ceremony on 6th December 2021 under patronages of the Ministry of Education and the Embassy of China in Sri Lanka. Minister of Education Dinesh Gunawardena, Ambassador of China to Sri Lanka Qi Zhenhong, Huawei Sri Lanka CEO Liang Yi took part in the event online with students and the officials from Huawei Sri Lanka.
Huawei Seeds for the Future helps develop local ICT talents, enhance knowledge transfer, promote a greater understanding and interest in the telecommunications sector, and encourage regional building and participation in the digital community.
This time 18 Sri Lankan students representing 6 Universities will receive virtual training, ICT courses, collective and Chinese culture courses to inspire the next generation of leaders through technology. The programme also gives access to knowledge on the ICT industry for tertiary students and delivers them insight on ICT industries and Huawei's latest technologies.
"The future generation and students are the greatest assets that we have in our country. Investing in people is the centre of our government strategy and policy under the Patronage of our President His Excellency Gotabaya Rajapaksa and Prime Minister Hon. Mahinda Rajapaksa. And as the Government of Sri Lanka it is our top priority and we are committed to accelerating more and better investments in human capital development of the country' – health, education, and social protection. The programs such as 'Huawei Seeds for the Future' will enable the technology transformation of future generations of Sri Lanka" Minister of Education Dinesh Gunawardena said addressing the event.
"I would also appreciate Huawei for continuous efforts that you are taking to uplift the skills of our country's future generation as leading ICT entity and I wish Huawei Seeds for the Future program will continue to encourage our University Students to pursue technological skills in the years to come" he said adding that he believe protecting and investing in people will be key to Sri Lanka's recovery from these time of challenge and boosting future productivity and economic growth.
"We are also in the process of formulating a new national education policy that Sri Lanka needs to cultivate talent and skills among our younger generation to meet the future demands of the industries positioning Sri Lanka as Capital talent hub in the Digital Era," Minister said explaining on country's future vision for education and talent cultivation.
Meanwhile speaking at the event Ambassador of China to Sri Lanka Qi Zhenhong said he believes that "ICT technology talents are fundamental and crucial for taking the advantage of the benefits of digital transformation." Quoting Chinese President Xi Jinping's speech at the 28th APEC Economic Leaders' Meeting that "We need to further develop the digital infrastructure, speed up digital transformation, strive to bridge the digital divide, and promote development of the digital economy in an all-round way." Ambassador Qi stressed that ICT and digital technology have become far more important for the development of the Education sector and Knowledge transfer in the current global environment. He also assured the audience that as a long-term friend of Sri Lanka, China will work together worked together in various student and education-related exchange programmes that will support Sri Lanka's talent development and cultivation.
Whilst the past year has not been a challenging environment globally for enterprises despite restrictions on travel and constraints in the global supply chain, CEO of Huawei Sri Lanka Liang Yi highlighted that "Thanks to digital technologies, businesses were brought back to normal through distant working and online meetings. Lessons and courses resumed via Massive Open Online Courses and online learning platforms. And we can meet each other now on the cloud, to have the opening ceremony for this program".
"Technology is the silver lining in the dark clouds of the pandemic. The challenge has pushed our society to advance in digital technology at a rapid speed like never before. We embrace new technologies, like 5G, AI, Cloud, and IoT – all of them will keep us together, No Matter What" He further said adding students, will begin Huawei Seeds for the Future with access to some of the world's leading experts in technology and that they will also learn about leadership and about Chinese culture.
He also thanked Minister of Education Dinesh Gunawardene, and His Excellency Qi Zhenhong, Ambassador of the People's Republic of China to Sri Lanka, for the continuous support for creating an environment for companies such as Huawei to help achieve social responsibility goals giving back to countries and societies.
Students also showcased their talent at the ceremony with a performance of a Cultural Song in Sinhalese that resembles Sri Lanka's natural beauty, unity, and harmony among communities as one nation.
Seeds for the Future is Huawei's global CSR flagship program. In Sri Lanka, this initiative was launched in 2016, 56 young ICT talents have been successfully completed this programme over the last 5 years and this time 18 students will be pursuing the programme as the 6th Batch of Huawei Seeds for the Future from Sri Lanka. Since 2020 Seeds for the Future is held online as a global trending.
Photo Caption
Huawei Seeds for the Future launching ceremony