DIMO reigns supreme at Mercedes-Benz Service Excellence – Regional Award Ceremony
DIMO has once again earned the prestigious "General Distributor Award" by Mercedes-Benz AG, outperforming others in the region, in the General Distributor category, at the recently held Mercedes-Benz Service Excellence – Regional Award Ceremony. DIMO has created new standards in regional service excellence by gaining a higher Customer Satisfaction Index and Net Promoter Scores. This resulted in DIMO receiving the best Service Excellence Award ranking among the General Distributors in the region.
Mercedes-Benz Service Excellence – Regional Award Ceremony also recognised Hirun Koralage, Amantha Yapa and Sahinda Wasalathanthrige – three members of DIMO's Mercedes-Benz Service Facility, as "Top Service Advisers of the Year" in the region. These recipients are selected based on several criteria and they have once again raised the bar in Service Excellence and have demonstrated their superior professionalism and commitment in serving their customers, which has earned them this incredible accolade.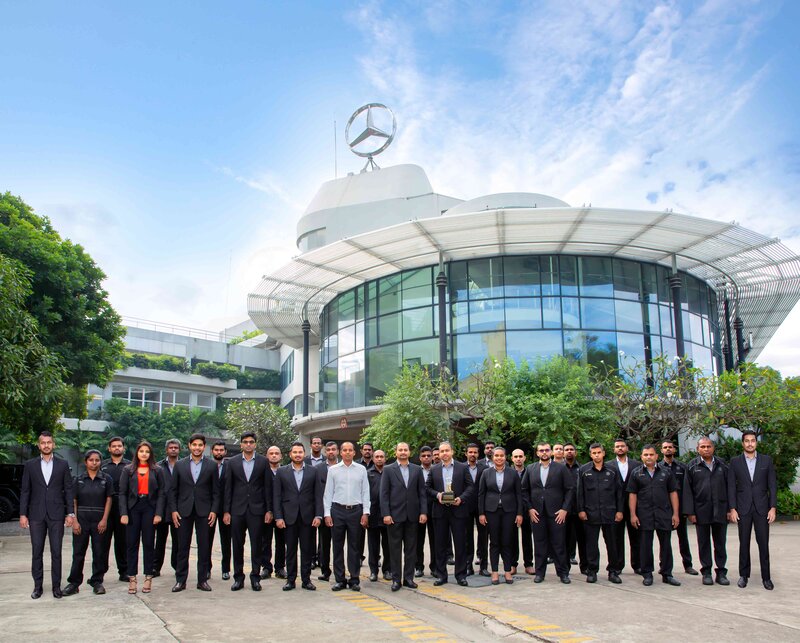 DIMO Chairman & Managing Director Ranjith Pandithage stated "Our constant winning streak portrays that DIMO is the only trustworthy place for Mercedes-Benz vehicles in Sri Lanka. This also demonstrates DIMO's passion towards ensuring maximum customer delight, while keeping in line with our purpose of fuelling dreams and aspirations of the communities we serve in. Our team constantly strives to provide peace of mind to our customers, with the promise of best service for their beloved three-pointed star."
This phenomenal accomplishment further showcases DIMO's focus on creating and delivering exceptional customer service, even during the challenging times similar to the COVID-19 pandemic. The continuous success at the Mercedes-Benz Service Excellence – Regional Award ceremonies solidifies DIMO's commitment to delivering the best in terms of service and experience, to its customers.
DIMO believes that continuous technical training supplemented with knowledge shared by Mercedes-Benz certified trainers plays an integral part in delivering a pleasant and a luxurious journey for the customer. DIMO's investments on software, special tools and equipment recommended by Mercedes-Benz AG always guarantee the best quality of service, at each customer contact point.
DIMO also adheres rigorously to all Mercedes-Benz repair processes and guidelines to ensure that every vehicle repaired or serviced at DIMO 800, is attended to with the utmost care and efficiency, as it is the only Mercedes-Benz AG authorised Service Centre in Sri Lanka, fully equipped with the latest technology and technical experts, catering to all Mercedes-Benz vehicles.
The trust placed on DIMO for the past eight decades is not only a constant reassurance to its clientele and valued Principals such as Mercedes-Benz AG, but also a testament to the fact that DIMO is committed to provide reliable and trustworthy service, of the highest quality, making it the true home of Mercedes-Benz in Sri Lanka.
END
Photo Caption
Mercedes-Benz Service Team at DIMO
About DIMO
Diesel & Motor Engineering PLC (DIMO) is involved in a number of related fields and represents many prestigious principals – Mercedes-Benz, Siemens, Jeep, KSB, TATA Motors, MTU, Komatsu, Michelin, Zeiss, MRF, Bomag, Claas, TK Elevator, Mahindra Tractors and Stanley to name a few. From a company known for vehicles, DIMO today has diversified into many areas. Medical Engineering, Building Management Systems and Services, Power Generation and Distribution, Material Handling, Storage and Warehouse solutions, Power Tools, Agricultural Equipment, Total Lighting Solutions, Power systems and Generators, Refrigeration, Ship Repairing and Driver Training Courses are some of the areas into which DIMO has entered during the past few decades. DIMO has also diversified into fertilizer and agriculture input market. DIMO successfully entered into overseas markets in the Maldives and Myanmar, by expanding their Marine and General Engineering services through partnerships in the Maldives and their automobiles and automobile servicing segments into Myanmar. DIMO is currently working to consolidate on current overseas operations with new markets in East Africa.